When you embark on a large software project some of the first steps are planning and scope. Furthermore, when you're working on a revamp of an existing product, you have an opportunity to look back and admit to your mistakes, and look for ways to correct them. In this post I discuss two big goals for Banktivity, both of which required a lot of planning and integration deep into the architecture of the app.
Goal 1: Improved Navigation
One of the goals in developing the next generation of Banktivity for Mac was to make exploring and navigating your finances easier and more intuitive. We wanted to do this because we've always felt that there was room for improvement in how customers navigate about our app. Furthermore, with our forthcoming ad-hoc reporting, quick and easy navigation becomes even more important.
In a forthcoming version of Banktivity we are introducing what can only be best described as Forward and Back navigation. No matter how you explore, cut, slice and dice your financial data, you can easily get back to what you were viewing with a two finger swipe or by using the new back button (there is a forward button too). Furthermore, this is fully integrated into the sidebar. For example, if you select a report, then an account in the sidebar and then select your budget, two clicks of the back button will get you back to your report. We aren't claiming to have invented Forward and Back navigation, as it's actually quite common, but we're particularly excited about this feature because it has been a long time coming to financial software.
Goal 2: Play Nice with Varying Screen Sizes
Today's Macs come in numerous sizes. On the large end you can have a MacPro powering dual displays and on the small end you have the tiny 11″ MacBook Air. Optimizing Banktivity for either of these extremes leaves a lot to be desired. If we optimize for the smallest screen, then those using a large iMac just have things stretched really big. If we optimize for a MacPro powering a huge display, then the app would literally be unusable on the smaller laptops. You are probably thinking now, "well sure, you should just optimize for the middle." We considered this, but it results in rather poor experience for those that have the largest and smallest displays. So what is a developer to to do?
Introducing Zones
In a forthcoming version of Banktivity we are introducing the concept of "zones." Zones are simply the spaces available for content (e.g. transactions, reports, budgets, etc.) on the ride side of the sidebar (aka the source list). You can think of Banktivity 5 as having one zone. However, for a future version you will be able to have two zones side by side. This allows customers with really large screens to have two completely separate views of data next to each other. What's better yet, is that if you have a small screen you can still use two zones when you collapse the sidebar area.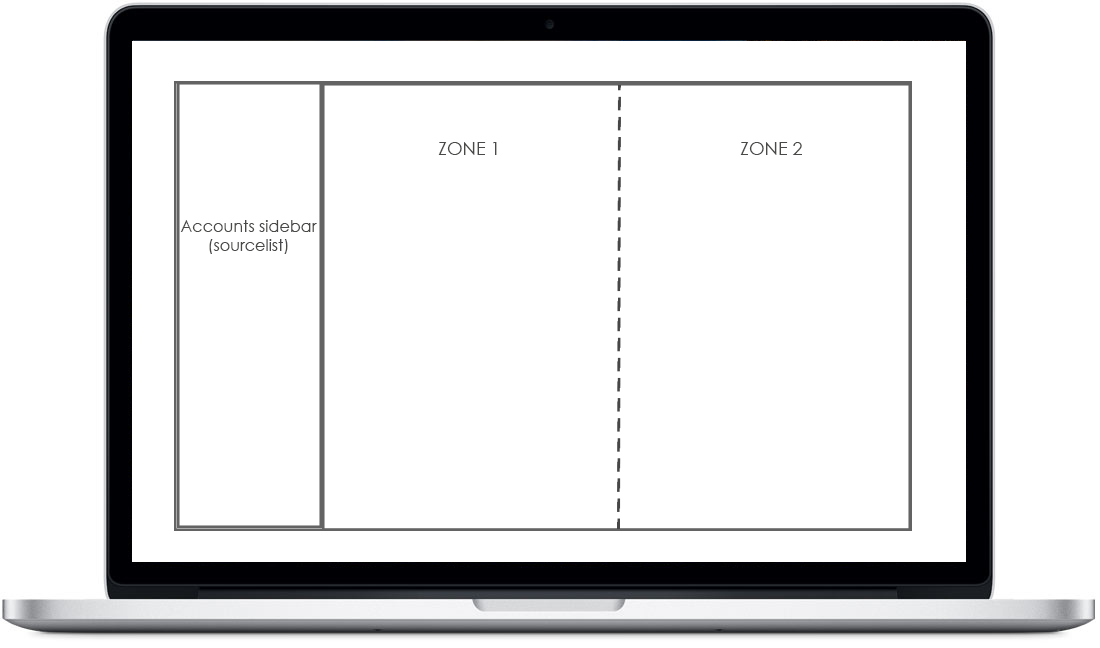 You can drag and drop items from the sidebar into a zone. Then once a zone is occupied, it maintains its own navigation stack so you can go forward or backward independently of the other zone. You can even drag some views that are in a zone back into the sidebar. For example, if you were looking at a spending report in Zone 2 and you drilled down into a specific category, say Groceries, you could then drag the Groceries category detail report back into the sidebar. This report would then be saved and would live in the sidebar until you opted to delete it.
Our new dynamic navigation and drag and drop capabilities are really best illustrated with a movie:



As you can see in the video, you can drag and drop items to and from the sidebar into different zones. Each zones maintains its own forward/backward navigation stack so you can explore within the zones independently. I'm really excited about our new navigation. The whole app feels much more modern and allows for some great customization.
I know someone will ask when this new version is coming out. And the answer is, we don't have a date to put give out to the public yet. Please also keep in mind that you are seeing a non-final UI – there will be changes!
Thanks for reading and I look forward to hearing your feedback.
Latest posts by Ian Gillespie
(see all)