Today I'm happy to announce our new Banktivity is out of beta and available on macOS and iOS. Check out www.banktivity.com to download the new Mac version today! The iOS versions are live on the App Store too.
For those of you that haven't been following the blog recently, I encourage you to read our post, A subscription that doesn't suck. We've implemented a subscription in a way that we think you'll find is pretty great:

Pick the tier that makes sense for you. Take advantage of our connected services and support.
If you don't need connected services or support, you can pay for a year then cancel and keep all the non-connected functionality.
You will continue to have access to bug fixes.
In this earlier post, I covered some of the great new features in Banktivity. But I thought for this post, it would be fun to cover some of the smaller features we added since they haven't gotten as much attention. At the end of the post I have an update on getting prices for international stock exchanges, so be sure to read the whole thing 🙂
More good stuff in the new Banktivity
New date range reporting options
Now in reports (and budgets!) you can choose year to date, month to date and even quarter to date as a reporting option. Further, if you do this in a report, you can compare this to the same period a year ago.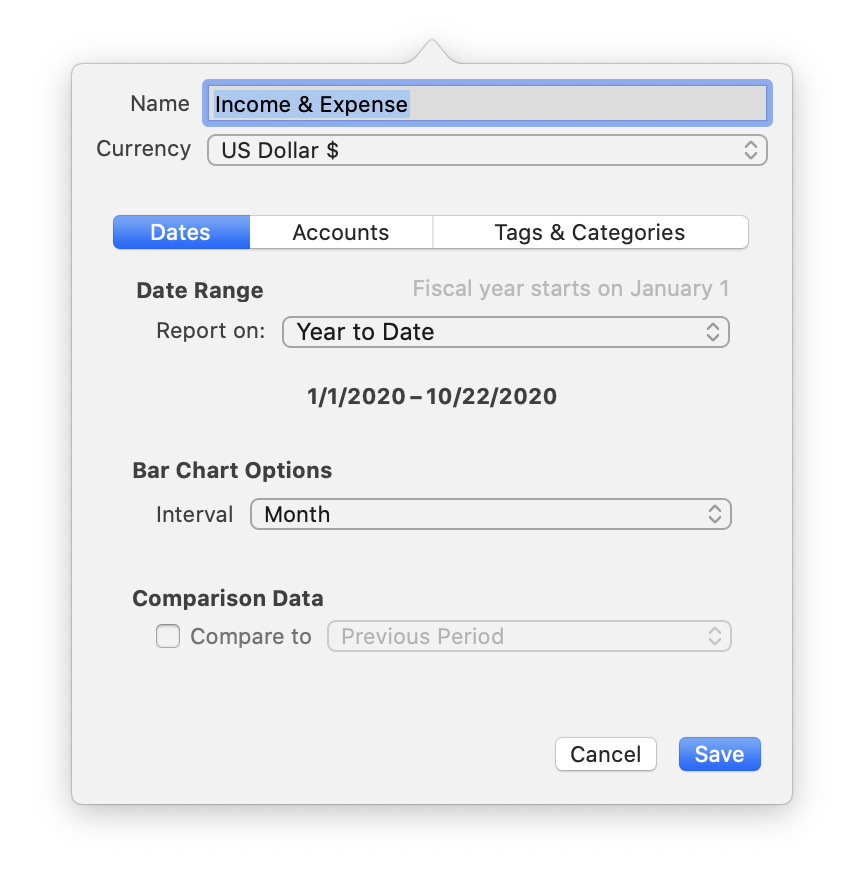 Easy date toggling on iOS
We implemented similar date range functionality in iOS with a new button to easily toggle between current month and year to date.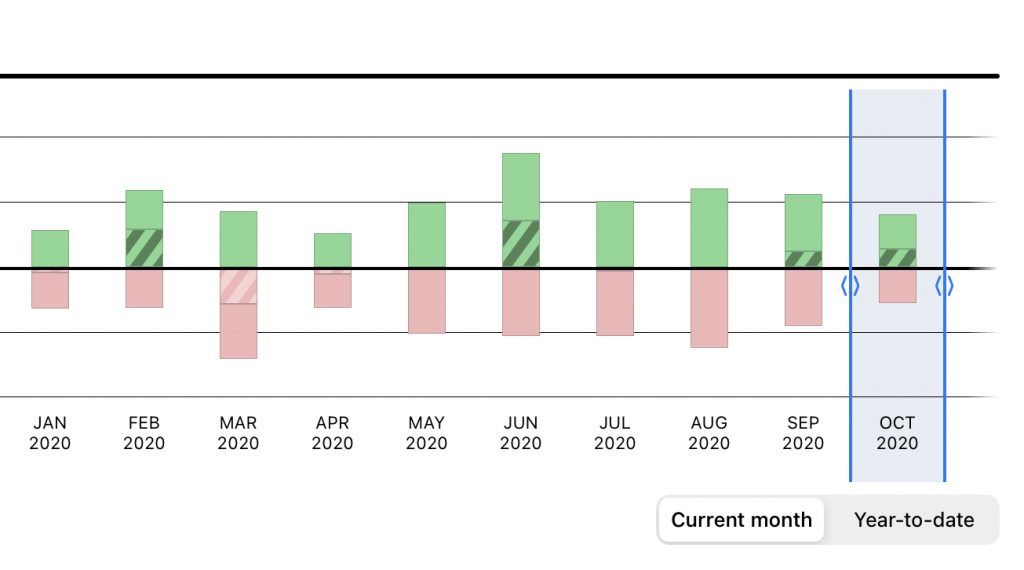 Improved category autocomplete
I don't want to spend too much on this one, but I know for those that have wanted this, it will be well received!
If you have a category structure like this, "Auto:Fuel" in the past you couldn't type "Fuel" and get any results. Now you can 🙂
Update security prices from Direct Access holdings
This is a nice little feature that happens behind the scenes in Mac and iOS. Now, when we get transactions and data for investment accounts that are connected with Direct Access or OFX, we check to see if there is information about the prices of your investments. If that price data is there, we pull it out and insert it into the document. This should help keep people's investment values more up to date for those securities that we can't get prices. But don't worry we are smart and only use the price data from your holdings if we can get it through a better source, and of course, we will not over-write any prices you enter.
Adjust shares assistant
This is a new Mac-only feature that helps you track your investments more accurately. This new assistant lets you tell the app how many shares of a security you should have and then Banktivity will insert the adjustments as necessary.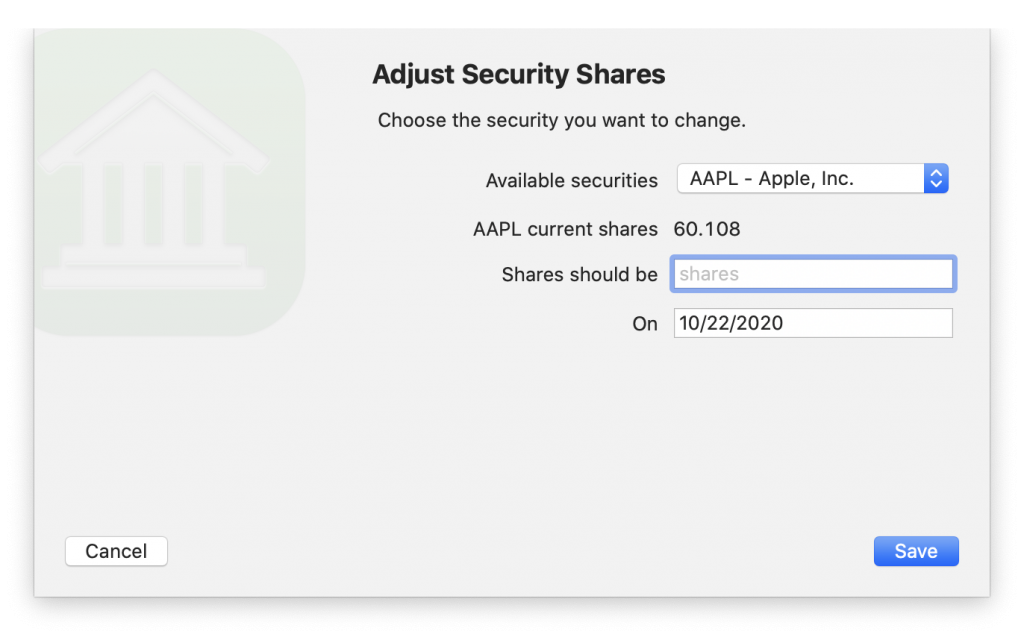 Display different account balances in the sidebar
We've added a new preference (Mac-only) to change which value you want displayed next to each account in the sidebar. Up until now, we always showed the "total balance." Now there are two additional options: cleared balance and today's balance.
Touch ID to unlock documents
This is one of those features that has been in iOS for a long time. (In iOS you can unlock your document with Touch ID or Face ID depending on what your device supports.) Now on Mac you can unlock your Banktivity documents with Touch ID (assuming your Mac supports it) or even Apple Watch.
New Calendar Options
Calendar gets a new configure popover where you can change what types of information and transactions appear on the calendar. We used to always show all three types of info: posted transactions, scheduled transactions and investment performance. But now you can pick and choose depending on what makes sense for you.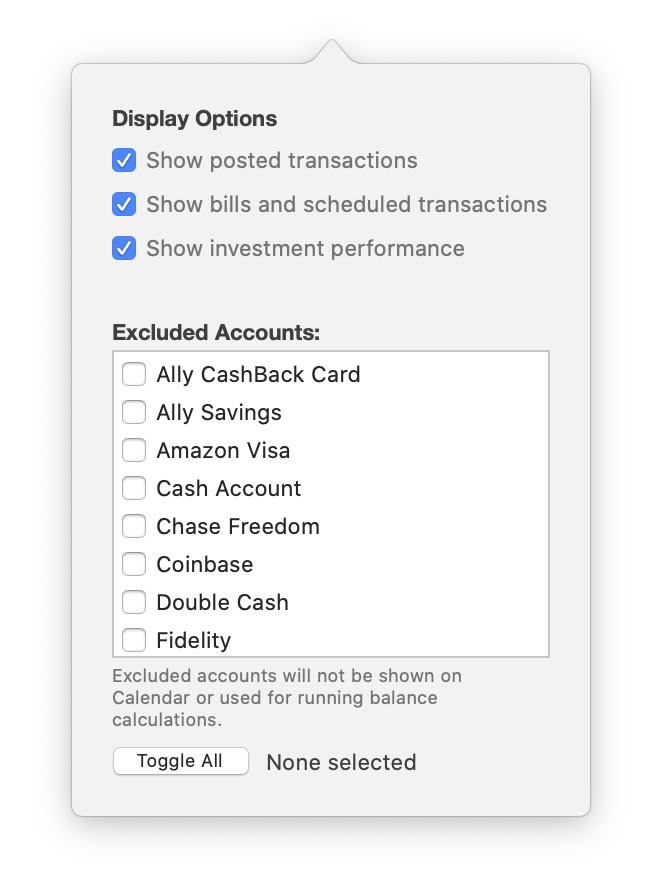 Add signatures to checks
Our check printing feature is available in the gold tier. We've spruced it up for this version of Banktivity by reworking the interface and by adding the ability to print your signature on your checks.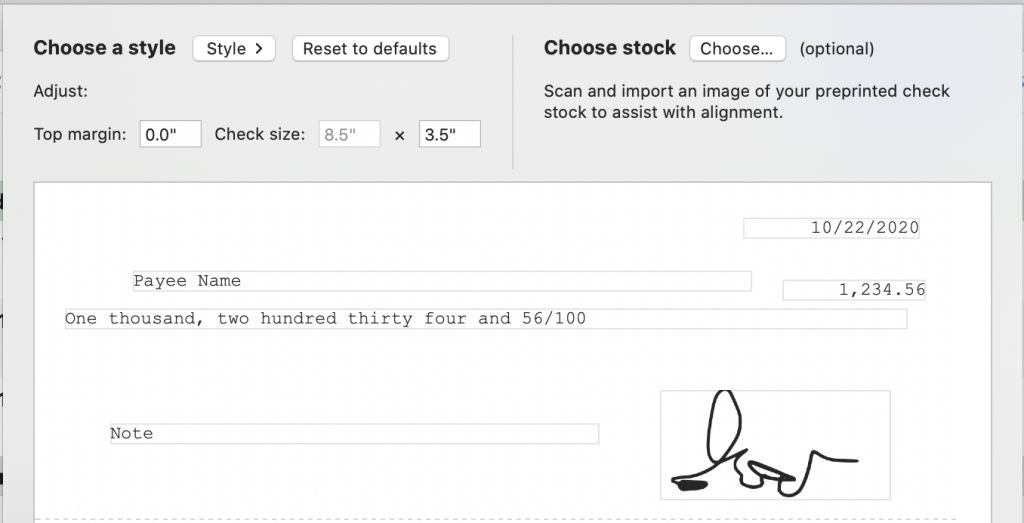 And more…
There are still yet more little improvements packed into the app. Here is a list of what else improved: statement summaries have more information, you can click the reconcile checkmarks to jump to a transaction in a statement, added a contextual menu item to remove tags from a transaction, added a contextual menu item to delete transactions, minor improvements to date navigation on reports, reworked the File menu, added Page Up and Page Down support, improved envelope budgeting setup assistant, default built-in browser now identifies itself as Safari and last but not least, new document setup assistant, improved auto-complete for check numbers. I don't want you to think that is all that changed. We also fixed numerous bugs and reworked various parts of the app to reduce technological debt.
More new goodies on iOS too
On iOS you'll notice almost the entire UI has been revamped. You'll also notice that the UIs between iPad and iPhone are almost identical. Of course, we also support split screen in iPad, dark mode in both iPad and iPhone and there are new setup assistants. Similar to Mac, we also reduced our technological debt on iOS to make adding features easier in the future.
Redact your net worth on iPhone
On iPhone you can also now hide your net worth on the summary screen – this was a popular feature request. This is done with a simple swipe to the right gesture.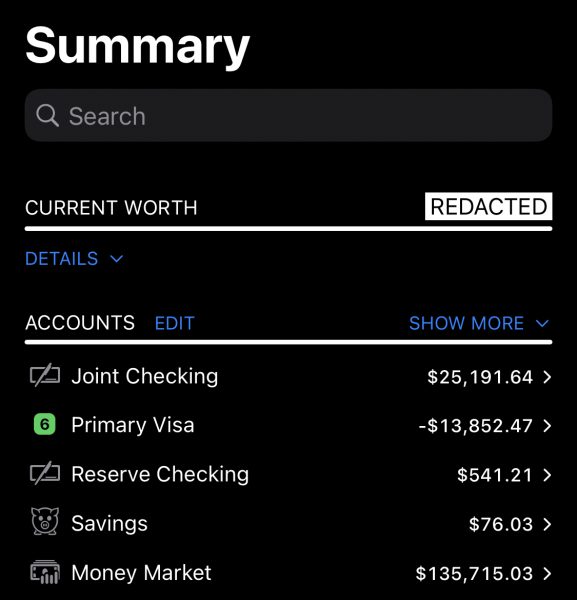 Better iPadOS integration
We re-did almost every screen on the iPad so that we can better support the trackpad on the magic keyboard. We still have some more work to do with full keyboard support, but Banktivity is a very good citizen on iPad and iPhone.
Update on coverage of international stock exchanges
We know that some of our non-US customers want to be able to download stock prices. Now, with the move to subscription, it makes even more sense for us to continue to improve and expand our online services.
Today I'm happy to announce that we have found a legitimate backend provider to start offering downloading of end of day security prices for Australia! Unfortunately, to get live or even 20 minute delayed quotes, legally, isn't feasible for us.
We still need to finish the implementation and of course, we need to test it. Once that is done, we will roll this out to our Silver and Gold tier customers.
I'm excited for you all to get your hands on these new versions of Banktivity. You'll notice that we keep calling it "the new Banktivity" and that is because this really marks a major milestone for us. The move to subscription is a big change, but I truly feel we can deliver better software and services with our new model going forward and I am excited to embark on this journey with you.

Latest posts by Ian Gillespie
(see all)