We're so excited to preview the new Banktivity. If you haven't been following along I recommend you read about our forthcoming "subscription that doesn't suck" and "services roadmap" as they are both related to our new release.
This is going to be a long post where I cover changes coming to both our Mac, iPhone and iPad products. Please note that the screenshots you see in this post are not final and are likely to change before the final release. Having said that, let's dive in!
Banktivity for Mac
Apple Silicon and Big Sur
In June 2020 Apple announced they are developing new Macs that no longer use Intel processors. The new hardware will use "Apple Silicon" – or more commonly known as ARM processors. Although we don't know the final specs of the new processors or what they will even be called, we do know they are based on the SoC (system on a chip) processors that Apple has been shipping in their iPhone and iPad for years.
In order to take full advantage of this new hardware, apps need to be compiled to run natively on Apple Silicon. I'm happy to announce that the new Banktivity will run natively on both Apple Silicon and existing Intel Macs. We already have our hands on a Developer Test Kit from Apple that lets us test our app on the chips.
Apple expects to release macOS Big Sur sometime this fall. Big Sur has some of the biggest user interface changes to the Mac operation system in years. Toolbars, sidebars and window chrome (or lack thereof) look really different on Big Sur. The new Banktivity fully adopts this new look and feel.

To get a sense of how the new Banktivity looks on Big Sur, check out this screenshot: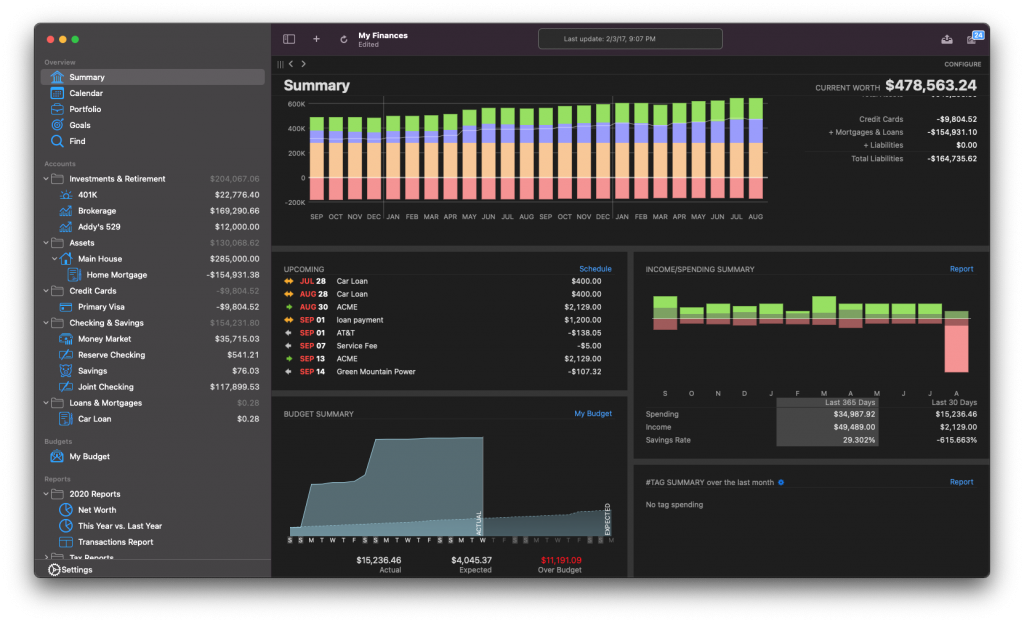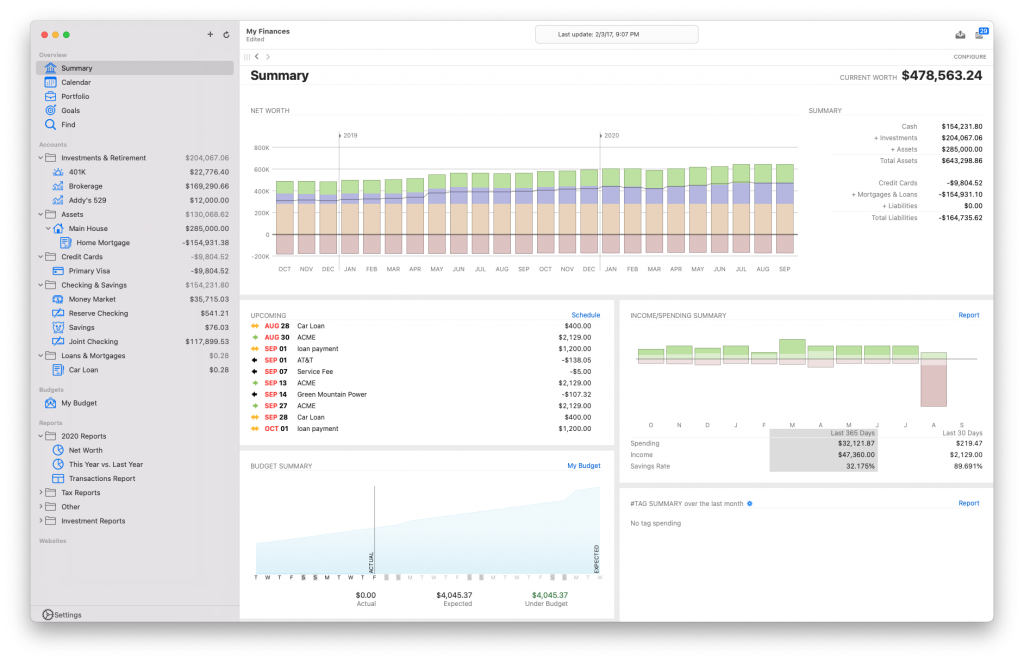 Financial goals
Banktivity has always been a great app to see all of your finances in one place, to answer questions about spending, investing and taxes. Banktivity's budgeting system helps you make sure you have a plan for how you want to spend your money.
Now we've taken it to a new level. I'm proud to announce that our team has added a powerful new suite of features into Banktivity called Goals. Goals help you easily plan for major financial events. Reach the financial milestones that are important for you, no matter where you are on your financial journey. Just starting to take managing finances seriously? You can set a goal of saving up an emergency fund. Experts agree, building an emergency fund should be one of the first things you do when getting on top of your finances. Perhaps you've been saving for years and want to plan how to fund your children's college expenses while also trying to save for a kitchen remodel. Someone else might be trying to understand if they are on track to be able to retire when they want. And who doesn't have the very worthy goal of paying down credit card debt?

Goals in Banktivity cover all of these financial milestones.
Build up an Emergency Fund
Pay down credit card debt
Save for vacation or other
Save for education
Plan for retirement
Here is a screenshot showing our new goals page. It's the place to go to see if you are going to hit your important financial milestones.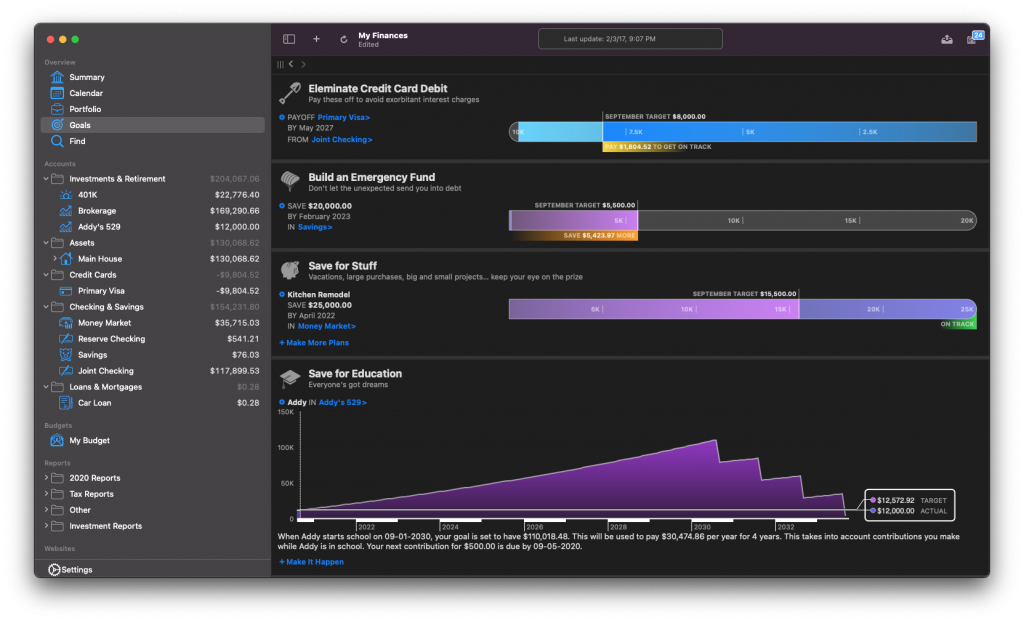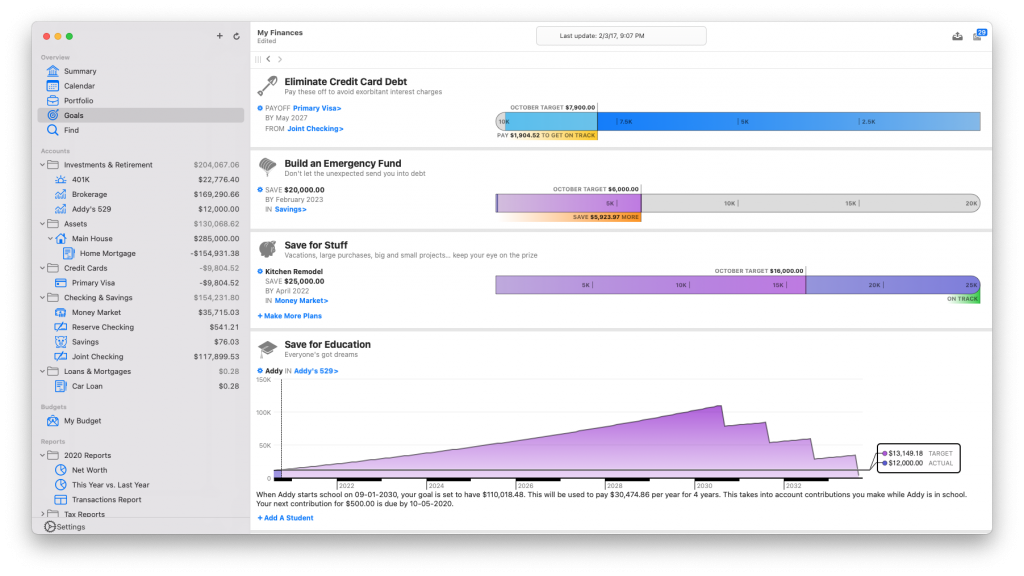 Goals not only let you set a stake in the ground, "I want to save this much for my emergency fund by this date." They also help you track how well you are following your plan to reach that goal. Each goal is just that, and endpoint and a plan to help you stay on track to achieve the goal.
I'm particularly proud of our Plan for Retirement goal. It incorporates a ton of math that you really would never want to try and do by hand. The end result is a plan to help you retire when you want, with enough money to live through your golden years. Of course, if you enter numbers that don't match your financial reality, it will politely let you know there's no way you are going to get that retirement you want. We like keepin' it real here at IGG.
Here is a screenshot of an education goal (top) and the plan for the retirement goal (bottom). The plan for retirement goal calls out the important milestones for your retirement while seeing how your money will stretch over your lifetime. For example, in this screenshot, you can see that Steve can first stop working (at age 59!) and start withdrawing about $4,000 from his retirement accounts. Then the other milestones indicate when he can withdrawal from social security, when his spouse, Amy, can retire and so on.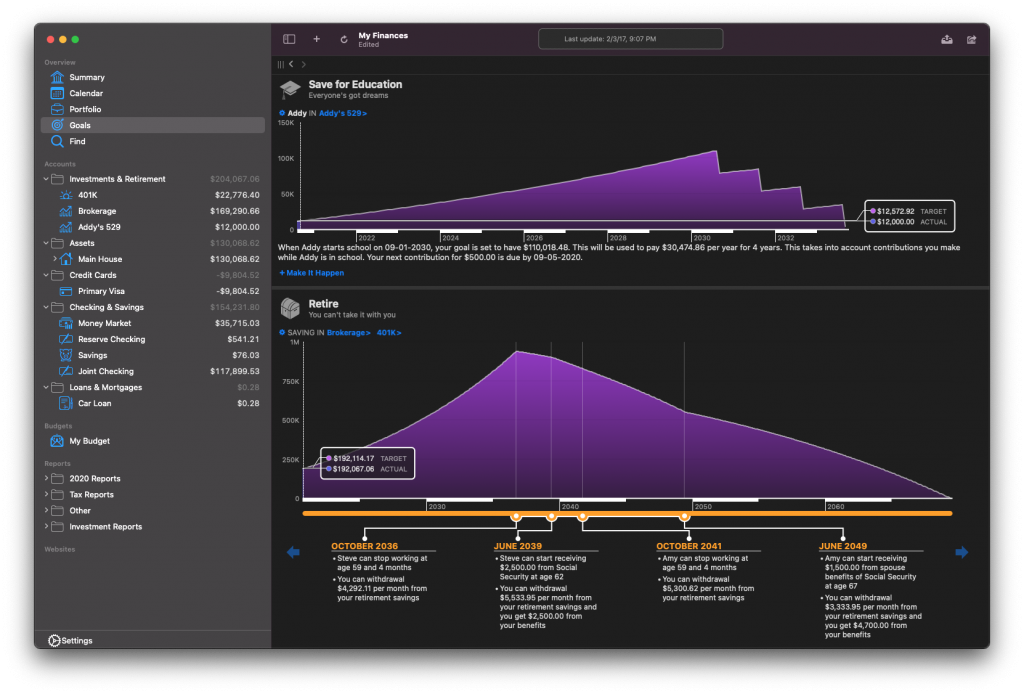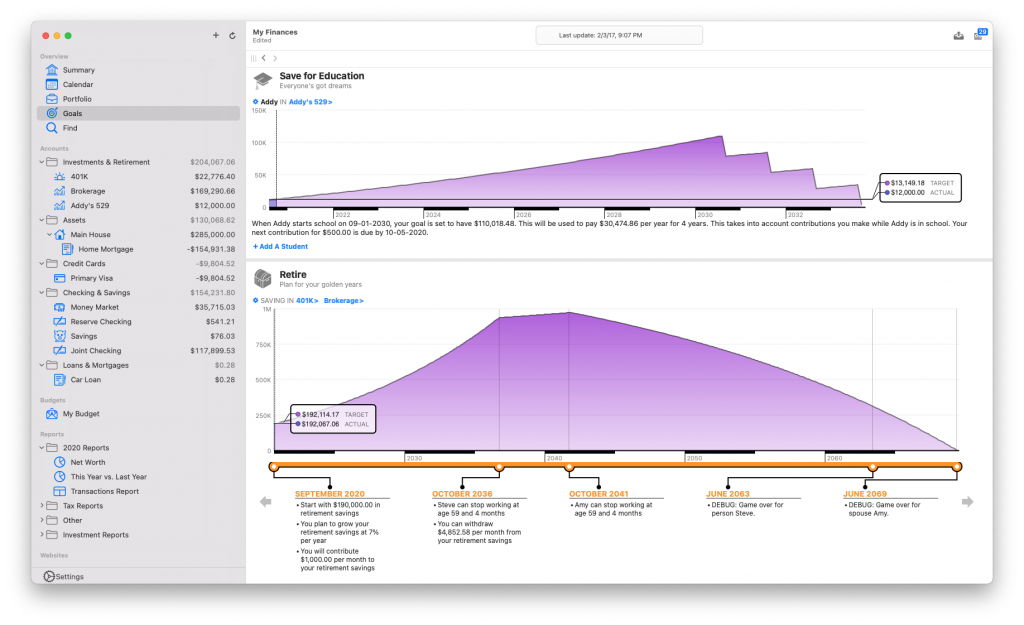 Our goals also incorporate into other parts of our app. For example, if you set up a goal to save for education and build up an emergency fund, we earmark those funds in the affected accounts. Similarly, if you use envelope budgeting, you can fund the appropriate goals by moving cash to them similar to how you move money between envelopes.
Summary
Our new Banktivity for Mac includes full support for Big Sur including a fresh UI. It will also run natively on Apple Silicon. Our new goals feature lets you plan and hit your financial milestones like never before possible. The goals feature also includes a powerful retirement planner. I don't know of any other financial app out there that incorporates such powerful goal planning and tracking.
But we didn't stop there, we've also added additional improvements and enhancements through the app, like Touch ID to unlock documents, new statement summaries, a preference to choose what account value is shown in the sidebar and more.

News on Banktivity for iPhone and iPad
First, I want to start with an announcement that has been long overdue: Banktivity for iPhone and iPad is now a single universal binary! Finally! This means we just have one app that works both on iPhone and iPad. Additionally, this means that you get the exact same features regardless of which device you are on. From a development standpoint, we refactored a ton of our code – leaving us able to add features and fix bugs on Banktivity for iOS an iPadOS more quickly.
Updated UI and Dark Mode
We've taken what we liked best about our iPhone app's more modern UI, combined with what we liked about our iPad version to achieve one new modern UI. We've also implemented Dark Mode throughout the app.
Take a look at some of these screenshots to get a sense of what the new UI looks like in Dark Mode.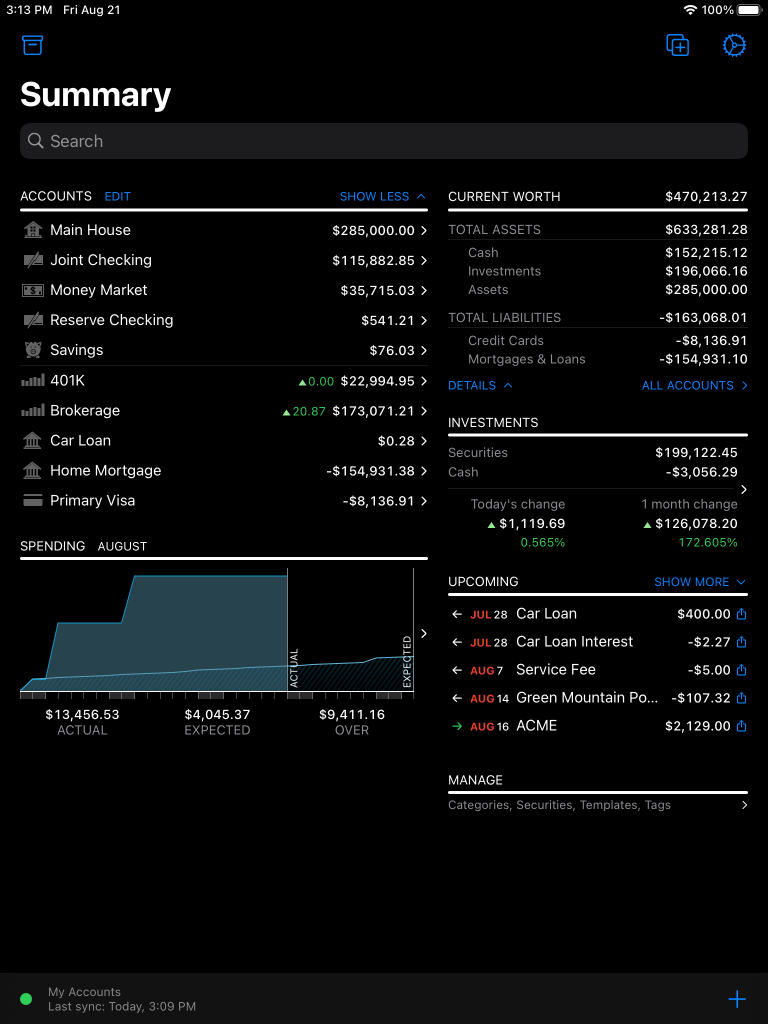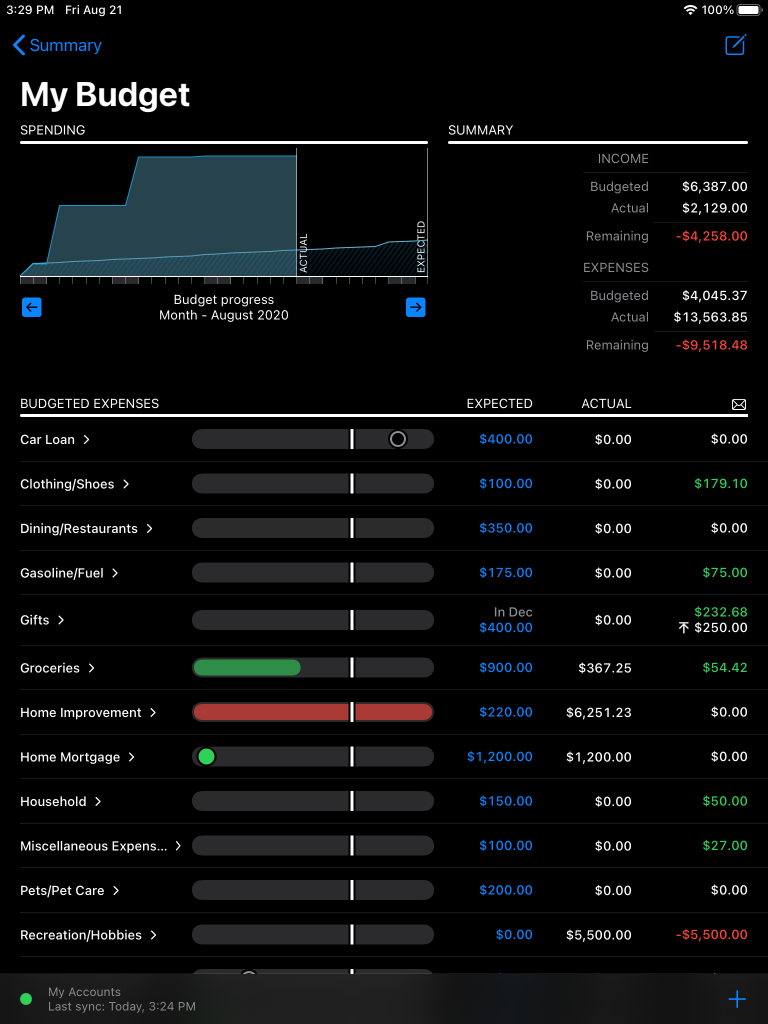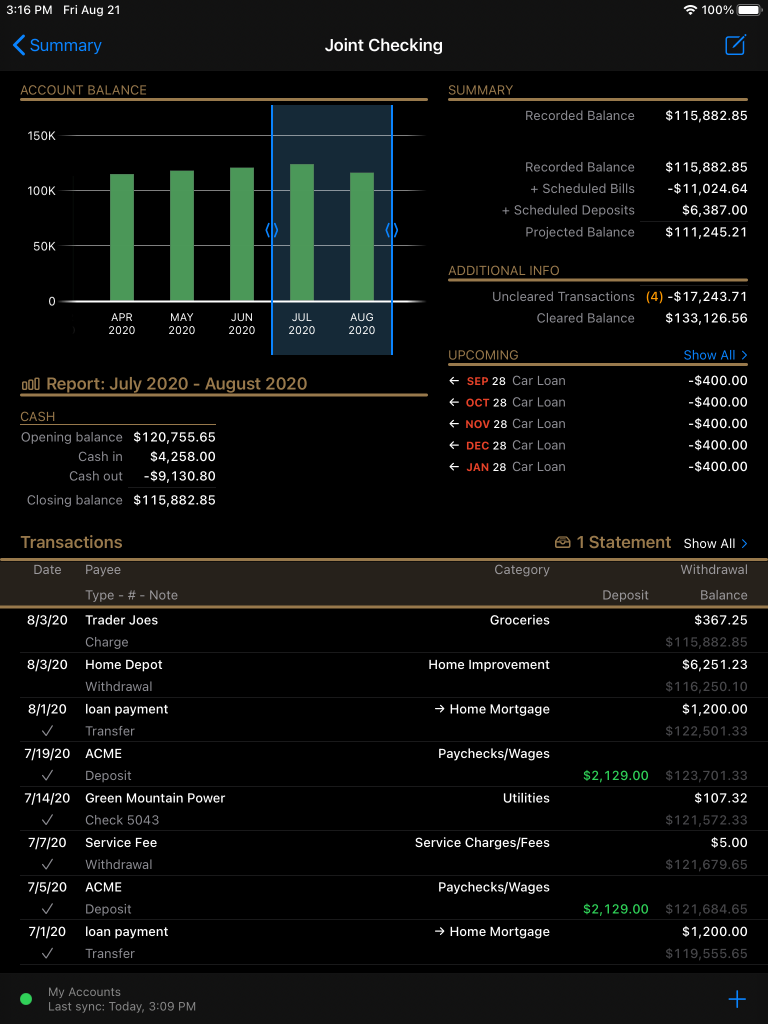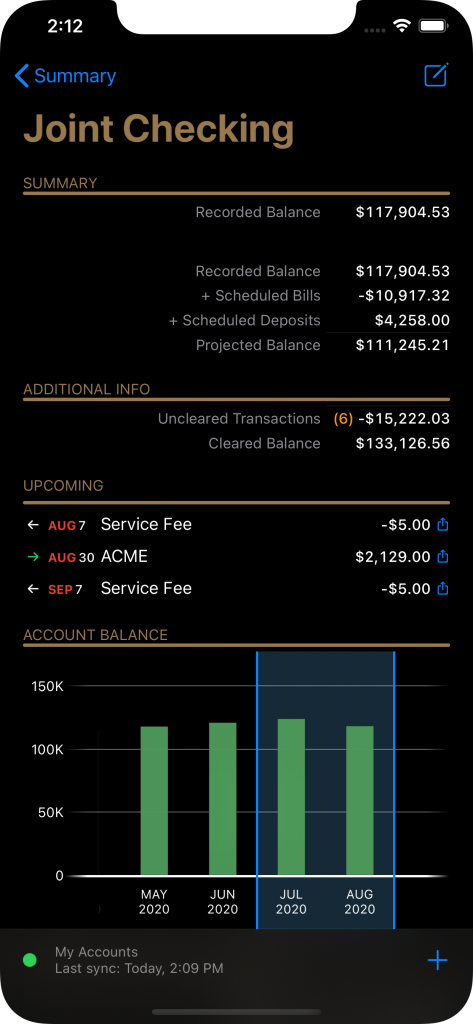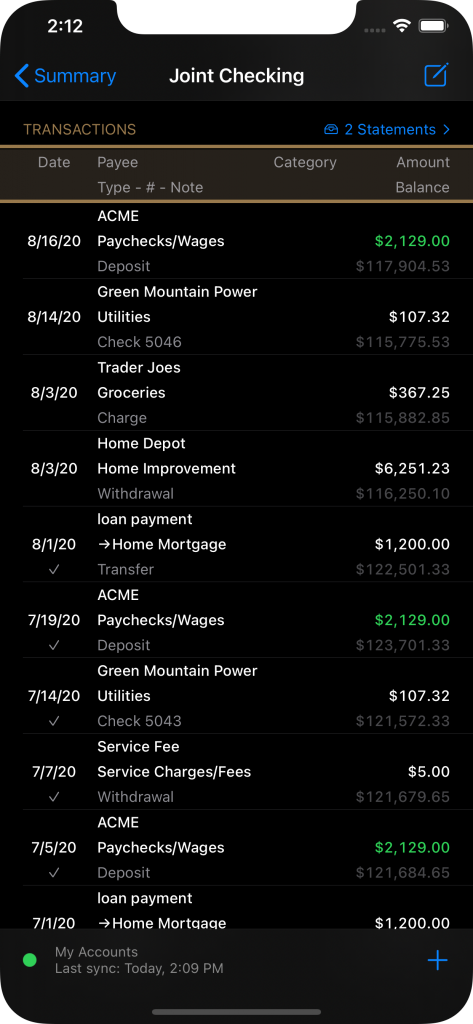 Statement Reconciliation
Customers have wanted to reconcile statements on their iPads and iPhones for a while now. In fact, it has been one of our most requested features. I'm happy to announce that statement reconciliation is coming to Banktivity for iPhone and iPad. So now you can reconcile on any device, iPhone, iPad or Mac and always have the most updated picture of your finances.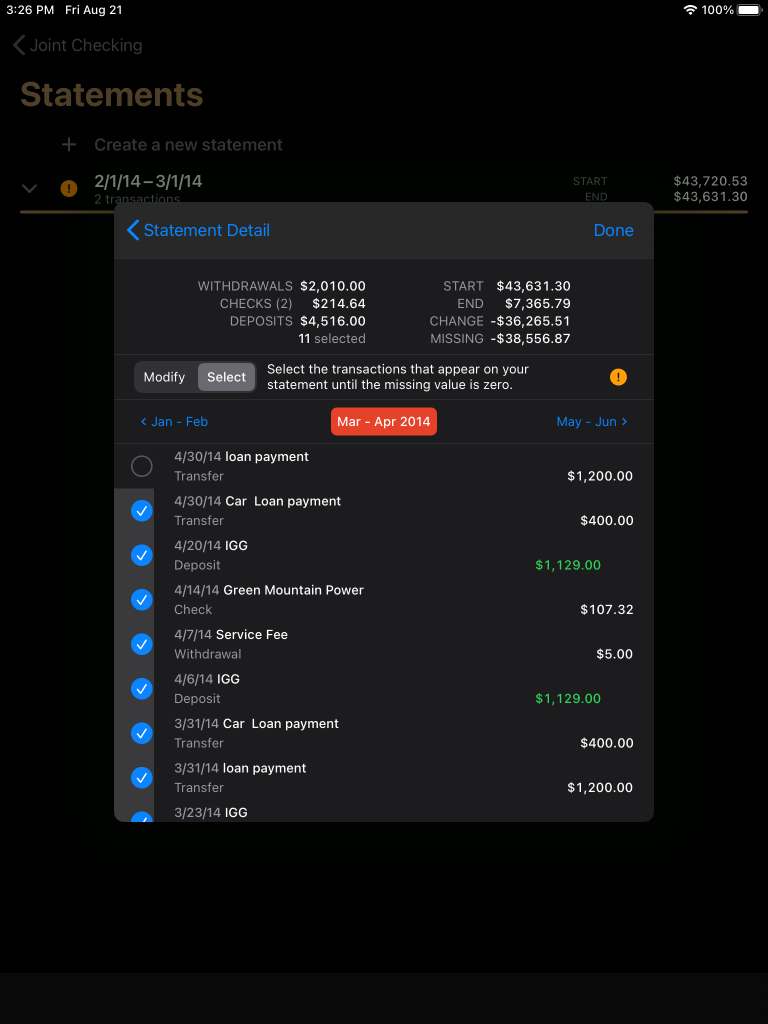 Portfolio
Our previous versions of Banktivity for iPhone and iPad have always had a way to get a little glimpse of how your investments are performing. But we ripped that screen out and built a much more robust portfolio view that is very similar to our Mac portfolio view. For each of your investments you can see gains, shares held, IRR, and more.
The new portfolio view also allows you to edit a security's price. This has been a highly requested feature and it is particularly helpful for those that hold securities that can't be updated automatically.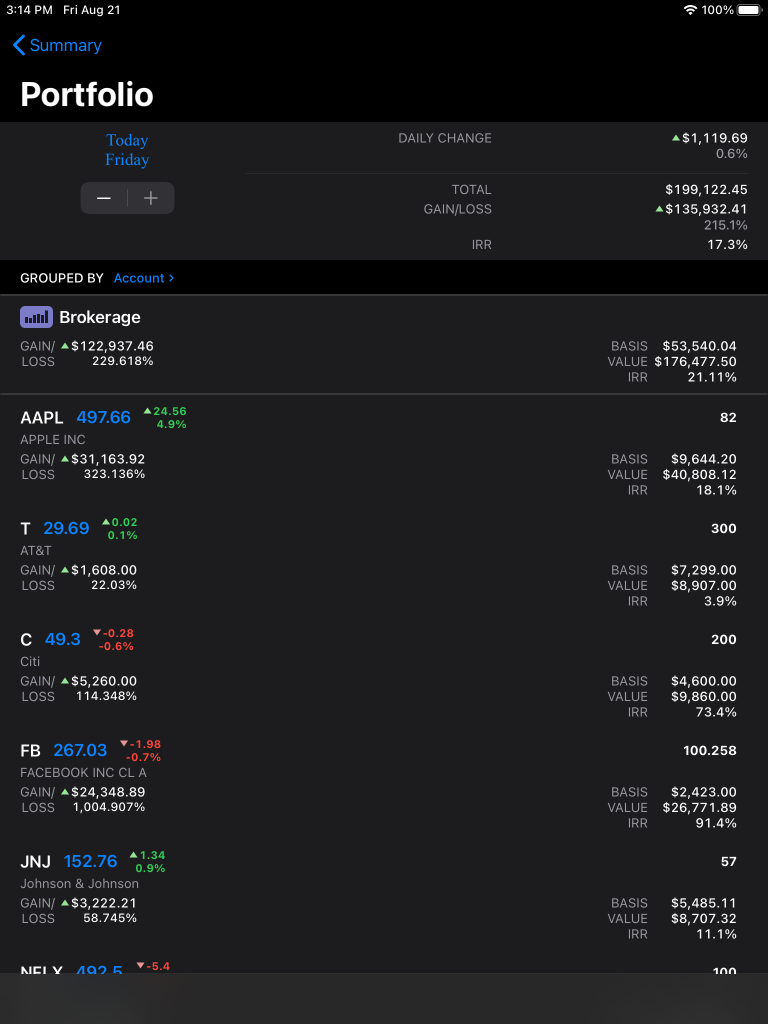 Hide your net worth on iPhone
Swipe to the right to redact your net worth and keep it from whoever is standing next to you!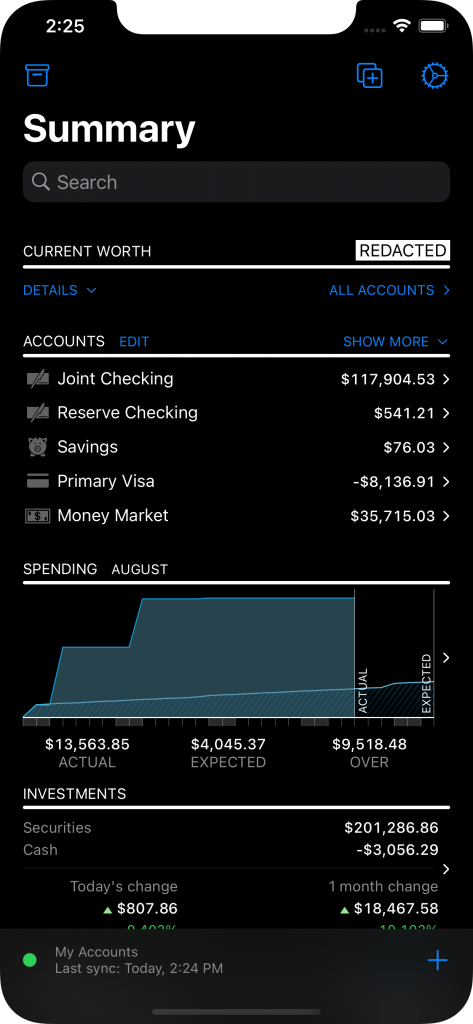 Banktivity for iPad and iPhone Conclusions
Feature parity across platforms is the direction we are heading in and adding the portfolio view and statement reconciliation is a good first step in getting us there.
We made our first iPhone app over 10 years ago. Back then iPhones were slow and the frameworks that Apple provided to make apps were immature, to say the least. It was a coding triumph to get our app using a SQLite database on the iPhone back in 2009. Now you can get going with a SQLite-backed Core Data-based iPhone or iPad app in minutes.
As iOS devices have matured and evolved so have the expectations of what customers want to do on their phones. While our Mac app has always been the "most powerful" of the Banktivity apps, we realize people want more and more of our Mac-only features on their iPhones and iPads.
We are excited to get these new versions of Banktivity out so people can take total control of their finances, no matter what device they are on. We don't have a release date yet, but it will be before the end of the year. Under the hood, these take care of a lot of technological debt we've built up over the years. Going forward, we are happy to be better poised for more nimble development.

Ian G. Gillespie
President
IGG Software, Inc.
Latest posts by Ian Gillespie
(see all)