Now that Banktivity 6 has been in the wild for a little while, I wanted to write about a few lesser known features in the app. Most folks know about the big ticket items like Workspaces, Tags, Quick Reports, Find and Portfolio. But we've added a ton of other new features and polish throughout the app, and they deserve some attention. So over the coming months I'll be doing a few blog posts calling out some of these less-spotlighted features and, of course, we will write about other development/company news as appropriate. I know many are clamoring for an update on our iOS apps – sorry, you won't find that in this blog post. But trust me, when we have something to say about them, we will write about it here!
So, without further ado, here are three lesser-known features in Banktivity 6 –or as I like to call them, hidden gems.
Hidden Gem #1 – The Sapphire
Sometimes, customers want a way to quickly sum up a couple of transactions. Now you can do that: at the bottom of the window is a little description showing the sum of all of the selected transactions (see the red ellipse in the screenshot below). Not much else to say about this. It's simple, it's fast, it's useful.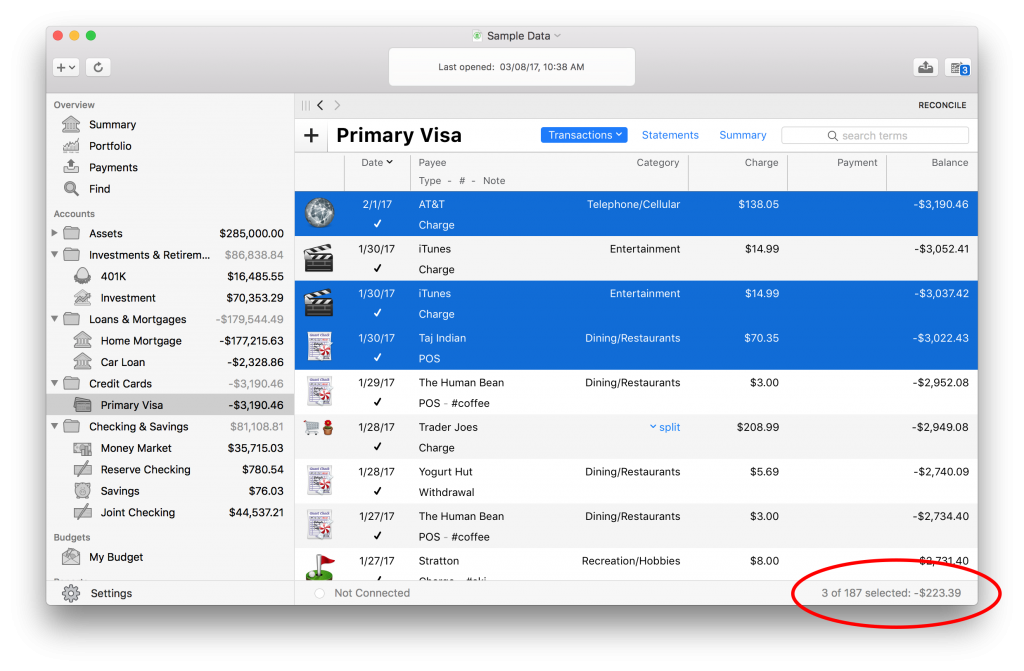 Hidden Gem #2 – The Ruby
Are you a fan of nested categories? We do a much better job now of showing nested categories in reports. One thing that we needed to figure out, however, was what to do if someone wanted to expand all categories. Now, if you see nested categories and a little disclosure button, just click it with the Option key down and ALL categories will be expanded or collapsed. It's not a huge thing, but a nice little touch. By the way, the Finder behaves the same way with folders.
Hidden Gem #3 – The Diamond
Alright, there isn't anything hidden about this, as it is probably one part of the app you interact with most: our inline transaction editor. For Banktivity 6, it has been completely re-engineered. We tried to keep the parts of Banktivity 5 that worked well, and improved the areas we thought needed help. One of first things you will notice is that you can tab to any part of the editor, add or delete splits, and do just about anything with key strokes. Yay!
We also greatly improved how split balancing works. There are two basic use cases that we wanted to get right and we think we really nailed it. The use cases are as follows.
Split entry case 1: A transaction exists in your account that is not split, and you want to split it. When you are adding splits to this transaction, you never want the total to change, or else it will affect your account balance.
Split entry case 2: You sit down to enter a new transaction, and you just want to enter in all of the split items and let the total be the amount debited from (or deposited to) the account.
Right off the bat, we handle both of these cases without you having to do anything – we just do the right thing – but we also exposed a new control so you can be more precise in controlling exactly how split entry will work. How do you know what behavior you are going to get? Look at the little "split balancer" next to the amount (red arrow). That indicates which line item will "absorb" any extra amount to make sure the transaction remains valid. In the screenshot below I'm editing an existing transaction and I'm about to enter an additional split item. The Groceries item will absorb the value I enter so that the total will always sum to $223.96 – the total amount of the transaction.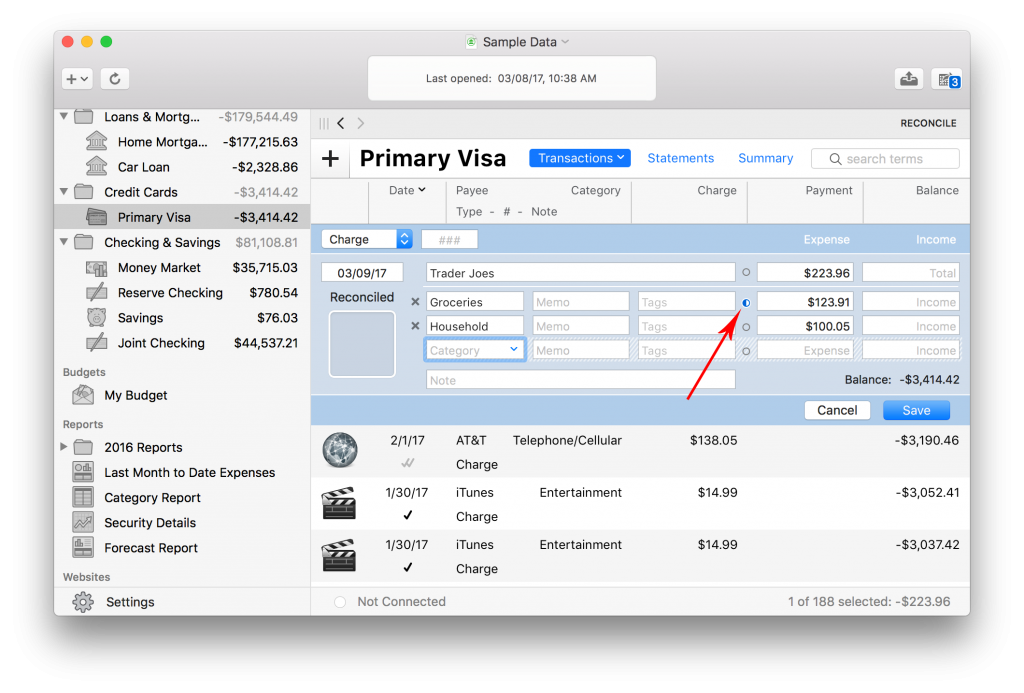 Here is an example of entering a new transaction where you want the total of the transaction to be the sum of all of the splits. Notice that the top most area, the total, has the split balancer widget. For this case, I can just enter split after split after split, and they will just keep tallying up.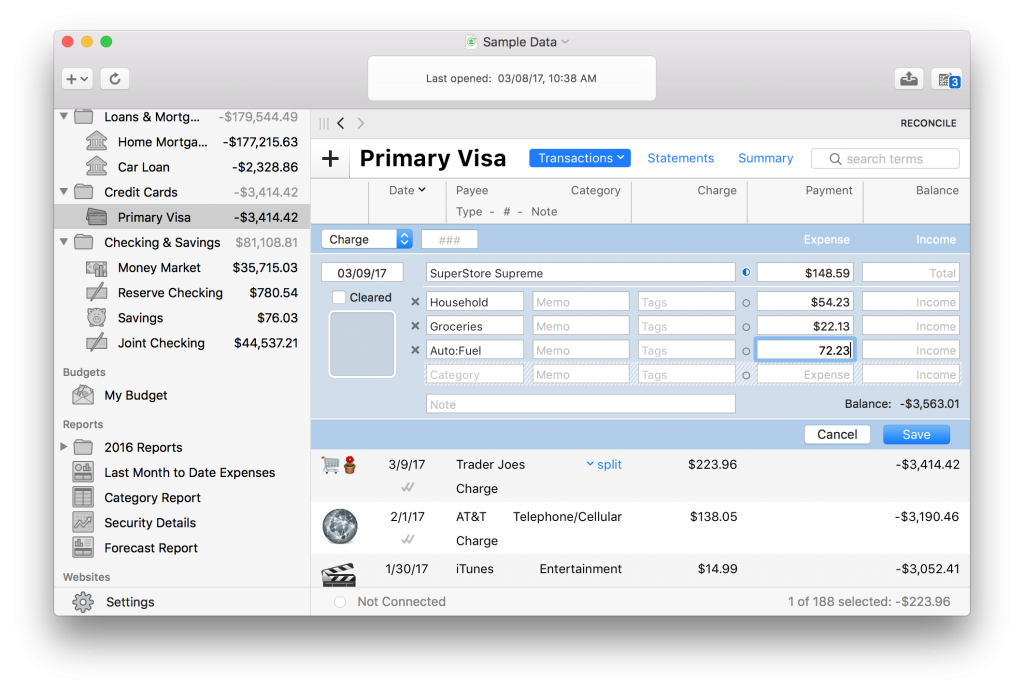 The other great thing about the split balance widget is that you can move it to where you want it in case you have a situation that necessitates finer control.
If you needed another three little things to get excited about, there you go – three hidden gems. There are lots of other little nuggets of goodness in Banktivity 6. I'll be outlining a more in the future, so check back soon, or even better, follow us on Twitter and Facebook.
Until next time.
-Ian
Latest posts by Ian Gillespie
(see all)