The story of iBiz is really the story of how IGG started. Over a decade ago I was a graduate student studying biology and plant population modeling. Occasionally on the weekends and between classes I would survey for rare plants as a side gig. The fun part of the job was hiking around botanizing, the not so fun part was writing a report back at home. As an early OS X adopter (early as in, I installed the first beta) I was frustrated that there wasn't an app to track the time I was spending writing reports — time I ultimately needed to bill back to the client. You probably get where this story is going and alas, AtWork was born. A very simple time tracking app. I found the app quite useful so I decided I would put it up on the internet and charge $6 for it. The first day I posted it, I sold one copy. I could hardly believe it! In a lot of ways, selling this first app marks the very beginning of IGG.
I continually updated and improved upon AtWork and pushed new builds to my file server. I continued to make a few bucks a day, but certainly not enough to consider "going indie." Besides, I was happy plugging away on my dissertation and chasing rare plants around southern California. However, I still continued to chase my other little passion, to make AtWork better and better. I developed it to version 3.0 and then the next iteration was a complete re-write, called iWork. iWork was a big success and continued to grow in popularity.  And although it was pretty simple at this point, especially compared to iBiz today, it still had some neat features for its time, such as 1-click emailing of invoices and an idle timer.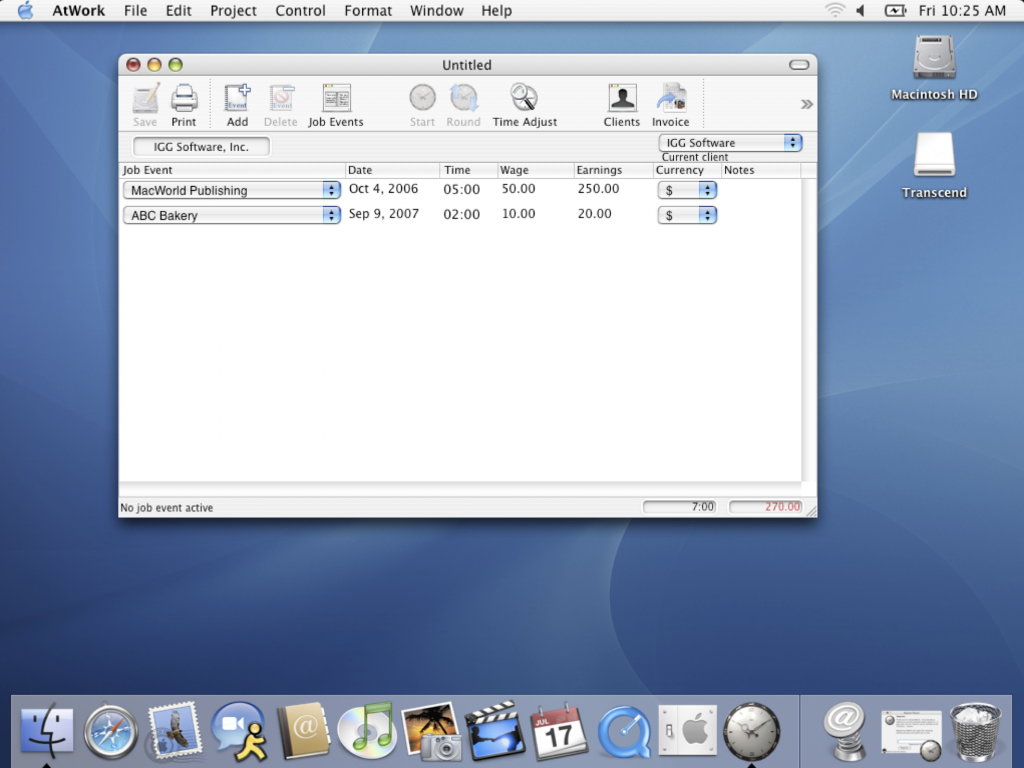 AtWork circa Mac OS X 10.3
Skip ahead a few years and by the time I was graduated and working on a post-doc, iWork and iBank were making a significant contribution to my monthly income. But I was still a one-man shop trying to juggle a lot of work. After one year as a post-doc, I took the leap of faith: I left academia to form and work on IGG full-time. At this point I moved to Vermont to settle down and get serious about software. I worked endlessly on iWork and iBank; iWork eventually changed to iBiz. iBiz continued to be the bread and butter for the company, and I hired my first employee who is still with us today :-).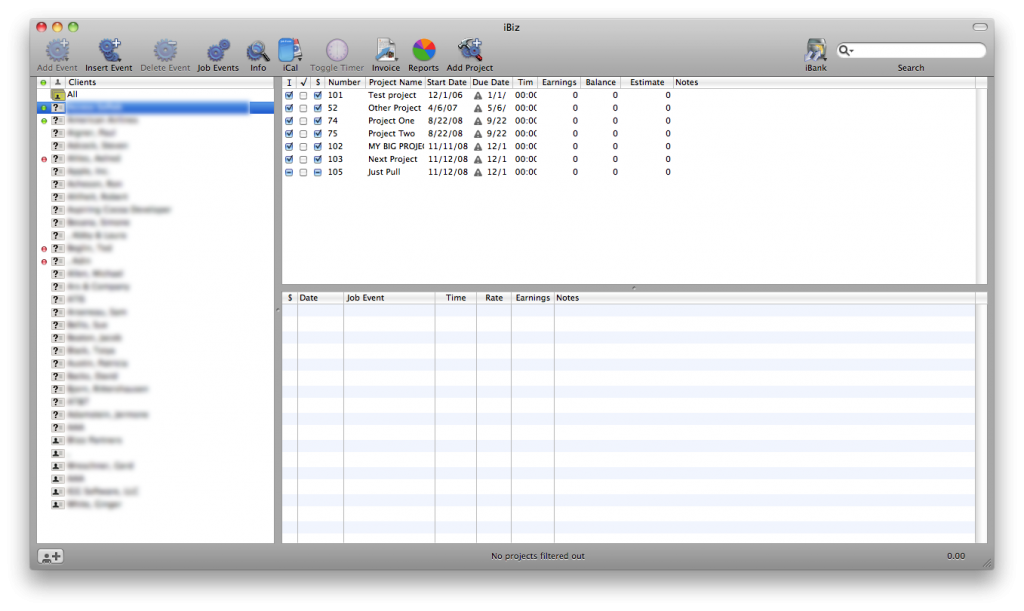 iBiz 2 (formerly known as iWork) circa 2008.
During the next 7 or so years, iBank continued to grow, went through several very important re-writes and eventually became our flagship product. We kept updating iBiz and even released iBiz 4.0 in 2009. iBiz continued to receive fixes for a few bugs and to ensure it worked with the latest Mac OS. However, it is clear now, we don't have the resources to give it the attention it deserves. It's been fun iBiz, you've helped many, including all of our internal team who keep track of their hours with it. And so it is not with a light heart that I say, it is time to say goodbye.
We are officially ceasing development of iBiz. It doesn't run on Mavericks and the work to make it play nice would be a huge undertaking. We've thought about this for a long time and once we finally decided on what we needed to do, we wanted to let all of you know ASAP. We will still continue to provide technical support for our existing customers for another year. But we won't be releasing any more updates and it will no longer be for sale.
(We've also decided to stop selling our utility iPaste and it will no longer receive updates, but we can continue to help customers troubleshoot it for another year.)
The SOHO (small office/home office) space is something that is definitely on our radar. In a lot of ways, it's a perfect fit for what we do already, but that space has changed a lot since iBiz. There are iPhones, iPads, "the cloud" has matured, people run their businesses with different tools. For now we need to focus on our iBank suite; we just announced iBank for iPad 2.0 and we have some great announcements coming soon.
I want to extend a personal thanks to all of the iBiz customers we've had through the years. You helped us make a great product and I apologize for the inconvenience this news might cause.
Latest posts by Ian Gillespie
(see all)