Today I'm happy to announce that Banktivity 8.3 is now available for macOS and iOS. While there are several smaller nice features in 8.3 that I will cover later in this blog post, the biggest feature by far, is Direct Access 2 – our next generation bank connectivity system.
Direct Access 2
Please note that for Banktivity 8.3, Direct Access 2 is being released as BETA. I also want to emphasize that if you are happy with your current Direct Access connections you do not need to switch to Direct Access 2 at this time. If you want to try our Direct Access 2 and keep some legacy Direct Access connections around in the same document, don't worry, that is supported as well. During the beta phase you can only set up new DA2 accounts on Mac, but they can be synced to iOS and will update there.
As we mentioned in an earlier post, Direct Access 2 brings our platform up to a modern set of APIs. We also redesigned it to be extensible, so that we can have multiple backend providers. For Banktivity 8.3 we will be going live with two providers: 1) Yodlee, the same provider we've been using for a long time now and 2) Salt Edge, a new partner for us that provides the connections to banks in the United Kingdom and Europe.
Connecting to United Kingdom and European Banks
We are thrilled to now offer a way for our UK and EU customers to connect to their banks. We are rolling out connectivity to UK banks first and will enable support for EU banks soon via a server-side update. Connecting to a bank supported by Salt Edge is a little different than connecting to a bank supported by Yodlee. When connecting to a Salt Edge-backed bank, you'll be asked to create a Salt Edge profile. Then through that profile, you will grant Banktivity access to download your bank transactions. This is a different flow than connecting to Yodlee because of Open Banking and GDPR requirements. You'll even have the option to log in to Salt Edge to see a dashboard of all of the accounts you've connected and which apps have access to them. However, once your account is set up in Banktivity and connected via Salt Edge, we don't anticipate you needing to visit the Salt Edge dashboard frequently, if ever.
Better Security
A lot has changed with website security since we first introduced Direct Access over 10 years ago. Our new Direct Access 2 system ties you directly to our backend provider without our servers getting in the middle. We do this by serving up a mini website hosted by Yodlee or Salt Edge and let them handle authentication. We've never stored credentials on our server, but now we don't even need to pass them through our servers.
This direct-to-provider design will also allow for faster fixes when there is an account linking issue. If you have helped us fix these issues in the past you know that they can be frustrating. Although we can't guarantee it will be painless, we have made significant changes to help improve this process.
Quality of Life Improvements
While bringing support to UK and EU banks is the biggest new feature in Direct Access 2, we would be selling it short if we didn't cover some of the other smaller enhancements we made.
More consistent indication of what is going on
With the old Direct Access sometimes the app might be in a state where it is waiting to get new transactions, but there were no user interface elements indicating this background process, i.e. no little spinners next to the accounts. We did this on purpose for the old system because that process could take a very long time waiting on Yodlee to get new transactions from a bank's website. With the new system, we now always show progress spinners when our app is getting new transactions. This should help remove some of the confusion customers experienced wondering why the app didn't appear to be pulling the very latest transactions.
Multi-factor authentication and workflow changes
No discussion about data aggregation in this day and age would be complete without talking about multi-factor authentication (MFA). The common manifestation of this in Banktivity is being prompted to enter in a code that is sent to you via a text or email in order to get the latest transactions. While we do not control how often a bank requires this (and some banks still require it with every connection attempt, looking at you Capital One) we do two things to make this process easier. First, if you have the preference turned on to automatically download bank data, we do NOT try to get transactions from MFA-enabled banks. With the old system, it made the preference to automatically get bank transactions unusable because it resulted in an MFA prompt way too often. Now, we only get transactions from MFA-enabled accounts when you click the circular Update Everything toolbar button. Second, when you are prompted for some sort of MFA we display that in a floating window so that your workflow is not interrupted.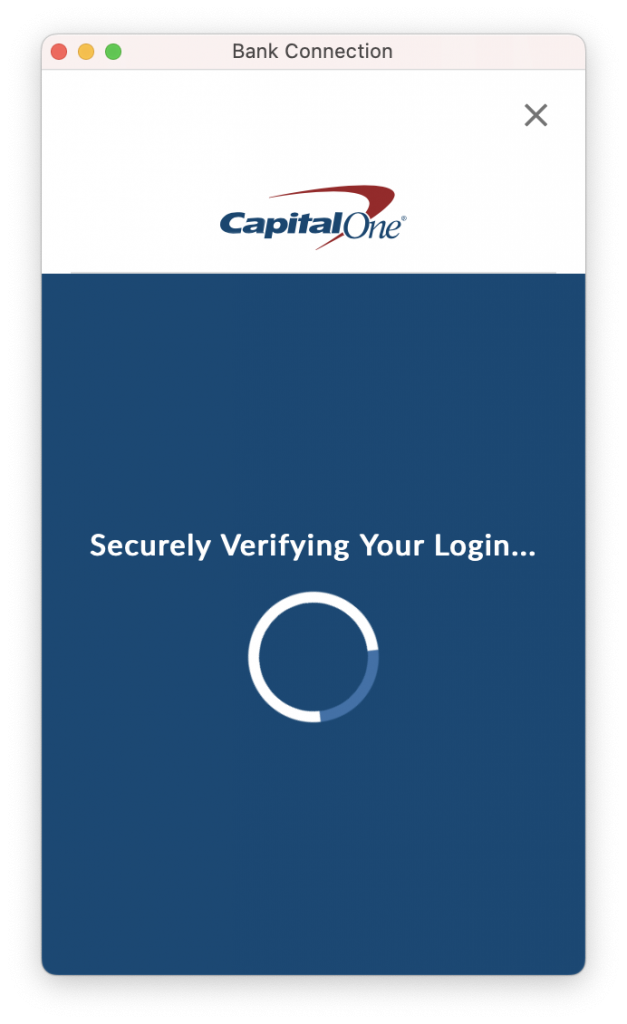 One nice thing about this window is that it floats over your other apps so you won't lose it in the background when your multi-tasking. We think this does a good job of making sure you are informed about any MFA requirements while at the same time providing flexibility depending on your own personal workflow.
Other Improvements
We've made a few other nice improvements to Direct Access 2. For example, we don't auto-populate the note field when it is the same as the payee. (Keep in mind you can always see the original import info by clicking the little "i" in the transaction editor.) We also now fix up pieces of data that might have been missing in an original import. This ultimately can result in better data quality, for example, you will be less likely to end up with a security-based transaction that is actually missing the security it belongs to. Additionally, we improved handling of pending transactions which should prevent some transactions from being deleted out from under you because they were pending.
Direct Access 2 Summary
For those that are comfortable beta testing the latest and greatest, Direct Access 2 is available in the app with just a press of a button.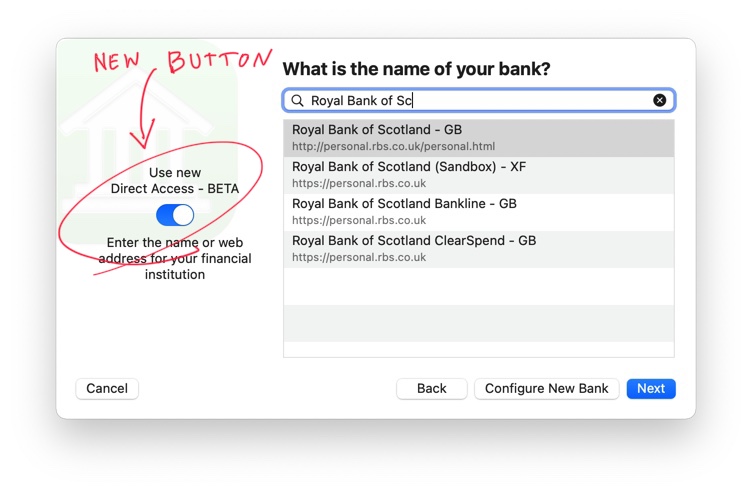 To try out Direct Access 2, select the account you want to connect in the sidebar, then go to Account > Configure Automatic Download. If the selected account is already connected via Direct Access or OFX, you'll need to take it offline first before setting up the new connection. You can have a mix of accounts connecting with old Direct Access and some accounts connecting with Direct Access 2 (so don't worry about trying to convert all of your accounts at once). One additional note, OFX connections are currently only found in legacy Direct Access bank list (we will be moving them over to the new bank list at another time in the future).
Other Features in Banktivity 8.3
Envelope budget status badge
If you are an envelope budgeter your workflow in Banktivity might go something like this. Launch the app, download transactions from your banks, categorize any of the new transactions as necessary, then check your budget to see if any envelopes are in the red or if you have money to distribute. To help streamline this process, we will now badge your budget in the sidebar with 1) the number of envelopes that need filling and 2) any money you have to distribute.
This new badging has been implemented in both our Mac and iOS apps. In the screenshots below you can see there are two envelopes that are "in the red" and there is 560.22 in income to distribute. The red circle badge and amount to distribute can appear independently from each other depending on the state of the budget.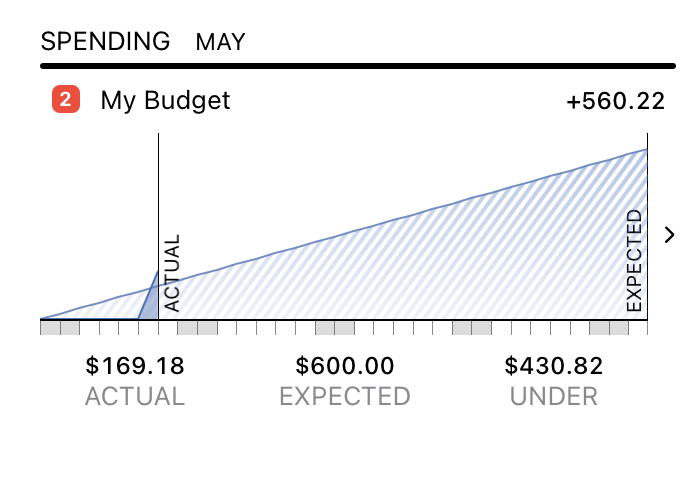 Group new and uncleared, and sort transactions on iOS
We've had a handy feature on Mac for a long time that lets you group all of your new and uncleared transactions at the top of the transaction list. This helps you see what is most important quickly and easily. Now with Banktivity 8.3 this feature comes to our iOS app!
We also implemented a new menu (for iOS 14 or higher) to allow you to sort your transactions by date, payee, category and so on – another step toward feature parity.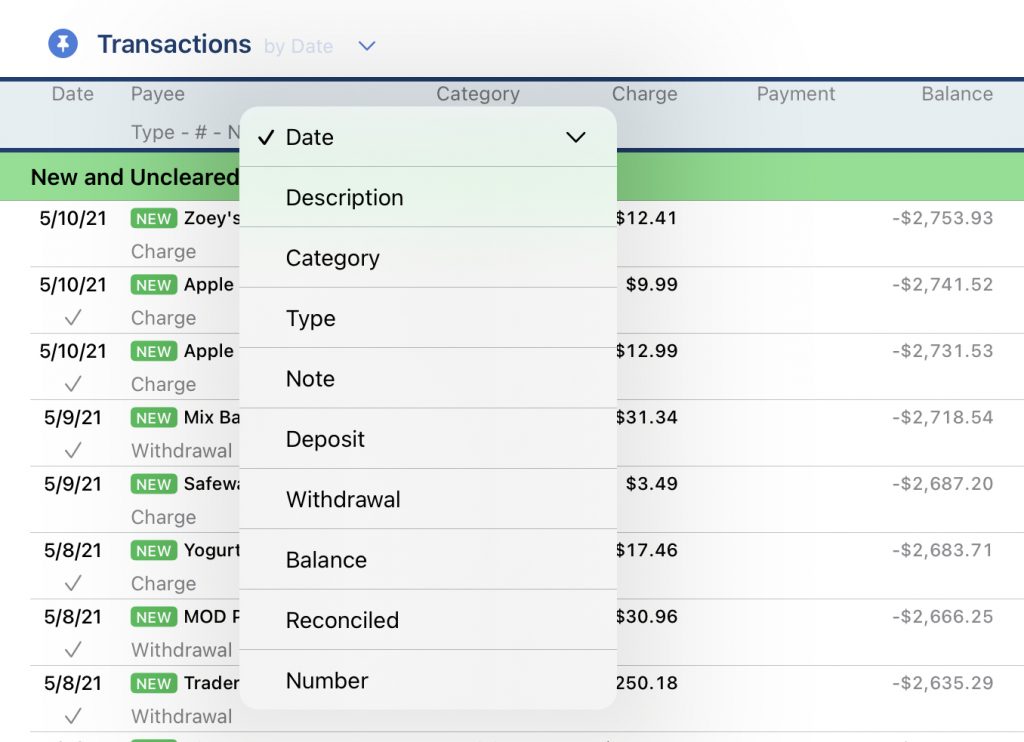 Some good bugs squashed
We fixed several bugs that have eluded us for a long time. For example, we finally found an issue where a manually entered transaction on iOS would sometimes not sync back to Mac (unless you subsequently edited it). Similarly, we fixed an issue with syncing budgets where you could end up with a "sync error 100". There was also a long-standing, albeit rare issue on Mac where switching to the Calendar the view could cause a freeze and show the "spinning beach ball of death".
Conclusions
Banktivity 8.3 represents the third major release since we introduced our subscription service last October. I couldn't be more thrilled to be delivering one of the most sought-after features: bank connectivity in the UK and Europe. I know that feature has been a long time coming!
Latest posts by Ian Gillespie
(see all)