My last blog post covered the history of Banktivity (formerly called iBank). This blog post will briefly touch on some things we are working on for the future.
Banktivity 5 has a lot of great features in it, like Bill Pay and Cloud Sync. But if you read my previous post, you know that software is never done. Our dedicated team is always working on fixing bugs, implementing features and keeping the underlying architecture modern and running smoothly as new operating systems are released.
Before I go into talking about a major overhaul to one of our existing features I want to say a bit about this blog. We started this blog to have a medium to let people know what we are working on. This gets tricky sometimes when we want to talk about a new feature, but don't necessarily want our competitors to know. Sometimes we start working on a feature a year or more before it will even make it into a shipping product. If we announce we are working on something like that, we don't want to mislead people in thinking that some feature is going to be released in the next month or so. Similarly, when we are working on a feature we don't want to peg it to a release date because we don't want to ship it until we think it is ready. I'm saying all of this to try and manage expectations. With all of that being said, for the following features that I'm going to talk about, let it be noted that we have no dates to announce at this time.
Reports
We've heard our customers loud and clear; most of you want improved reports. This means a lot of different things to different users. Often when we prod on the details of what customers want, it's really across the board. Some people want to be able to compare year to year, others want to be able to tag a transaction to report on it later. Others want reports that are easier to generate. And some want reports that allow for greater customization. I can't promise we've solved every situation, but let me tell you about the great things we have done.
Ad-Hoc Reports.
Ad-Hoc reporting works by allowing you to save any report you are looking at. In Banktivity 5 you can drill into reports to see more detailed data, but you can ONLY see it by drilling in, there is no easy way to get back to it without a bunch of clicks. With Ad-Hoc reporting, you can save any drill down report and it will appear in the sidebar/sourcelist. I'll talk about some of the new data you can see when drilling down into reports in a another post. But the take home point here is that Ad-Hoc reports are convenient, light weight and powerful.
Grouping.
With it being so easy now to generate a report, we imagine that customers might want to manage many more. A flat list of reports can quickly get cumbersome, so yes, in the future, you'll just be able to group them into "folders" and organize them however you want. And yes, you will be able to make groups within groups too. I know my flat list of reports for the IGG books is way too long. I can't wait to start using the new report grouping feature!
Tags.
This might be the single biggest improvement I'm going to talk about in this blog post – the new reports, where appropriate, allow customers to refine results based on Tags. Droves of customers have been requesting this for a long time and I'm really excited that we have it built-in to the accounting engine now. I want to be clear, this isn't some feature we sloppily tacked on at the last minute, we baked this into the core and foundation of our product. You can add any number of tags to transactions or splits, and report on them. This exposes a powerful new dimension to reports and will let customers slice and dice and understand their financial data in a whole new way. For customers who haven't been able to leave Quicken because of their support for classes, you will finally be able to say goodbye.
Comparison Amounts.
For almost every report, there will be a new option to show comparison data. This means you can easily compare spending for say, 2016 to 2015, or July 2015 to July 2014 and so on. We did put some sanity restrictions on this feature though. For example, you can't compare all of 2016 to part of 2015; the date range length must be the same for the comparison period. However, you can shift the comparison range back in time as far back as you want to go – you could compare Q1 2016 to Q1 2006 if you wanted. It can also handle comparing months of different lengths, so you can compare March 2016 to February 2016. Displaying the comparison data is an option for any report that supports it. So it's there if you want it, but doesn't get in your way if you don't want it.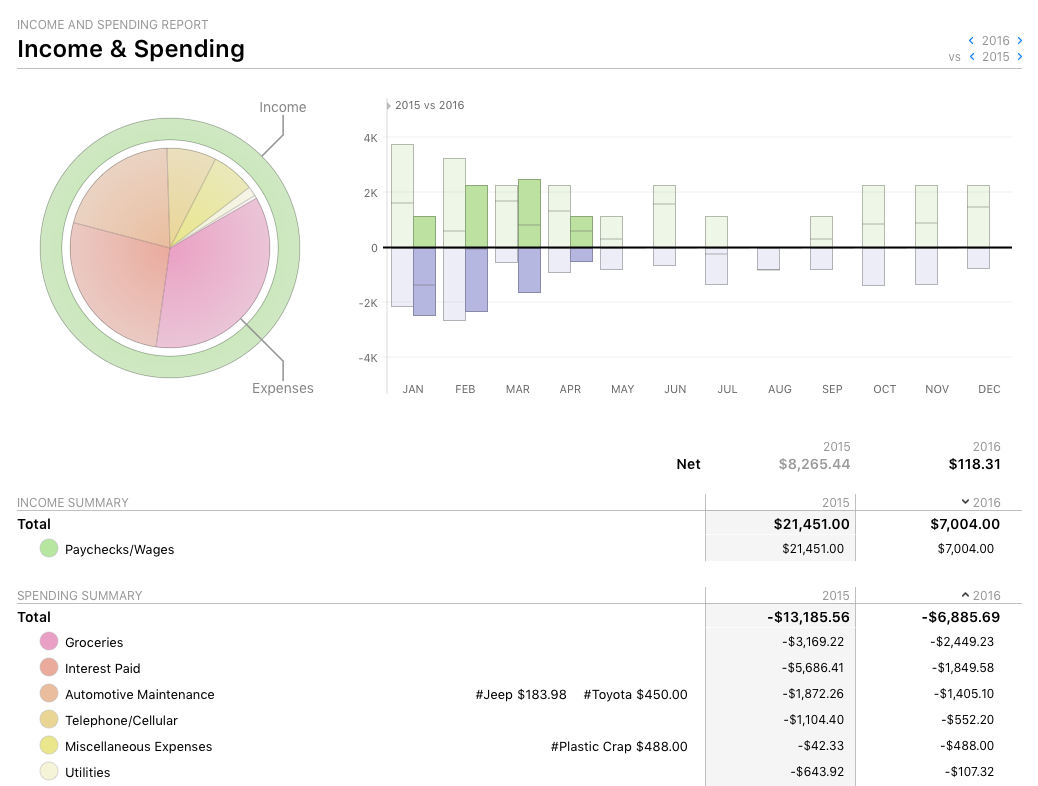 In the screenshot above you can see the 2015 and 2016 data sets side-by-side. You can also see the tags separated out on this report: Plastic Crap, Jeep and Toyota. The report is interactive as well. You can click on any category row to get more info just about that category, or you can click on a tag, to just get relevant info about spending and income for that tag. (I used Plastic Crap in the example because I'm in the process of a big move and sometimes it seems, wherever we look, there is more plastic crap to deal with. :-))
Nice Little Things.
We've added a lot of other niceties into reports. Here are a few:
– Not sure if want to see your sub-categories in the list or rolled up into the main category? No problem, we've implemented a little disclosure triangle to expand and collapse sub-categories right inline. If you hold down option key while expanding or collapsing, all categories are expanded/collapsed.
– Maybe you don't want your results sorted alphabetically, no problem, you can now just click a header to sort data how you want it.
– Want to see data from a past interval quickly? Ok, just click the < or > arrows to change the range of data you are looking at. This works for comparison data too.
– Drill down into some more detail and want to go back, you can now two-finger swipe.
– Maybe you need a different report title? No problem, the title of the report now reflects what you name the report.
I could go on about other features we are working on, and to be honest, I'm really tempted to. It's an exciting time to be running IGG Software as years and years of backend work are finally coming together for our entire product line. Alas, I want to save some good fodder for future blog posts.
One last note, please keep in mind that the work I described above is a work in progress, as such, it can and will likely change.
Let me know what you think. Does it look like we are heading in the right direction with reports, or does it look like we missed the feature you wanted?
Happy Banking,
Ian
Latest posts by Ian Gillespie
(see all)