We've had an iBank version for the iPhone — iBank Mobile — since Apple released its first SDK about five years ago. Since then, the app has received numerous updates but nothing that expanded its primary use case — entering transactions quickly while on the go. However, times change and customers' needs change. iPhones are extremely fast now, have more memory than ever, and people expect to be able to do more with their phones. So today I'm going to show you what we've been working hard on for the last several months: the next release of iBank for iPhone.
Before I show screenshots, I want to talk about some of the features it will have. First, one of its primary features will still be fast transaction entry. We don't have plans to overhaul the transaction entry flow, we'll just refresh the UI screens. Second, it will now have budgets! Yay, finally, you will be able to sync over your budgets from the Mac. Third, you will be able to see your investment account's market value and it will download current stock quotes. Fourth, well, I don't want to give away all of the upcoming features just yet. Seriously, we do have a few more things planned, but I'm not going to discuss them in this post.
I will state my usual disclaimer: the app is currently a work in progress. Many of the screens are showing live data, but have not received final UI polish, so please keep in mind the final shipping version will likely look a bit different.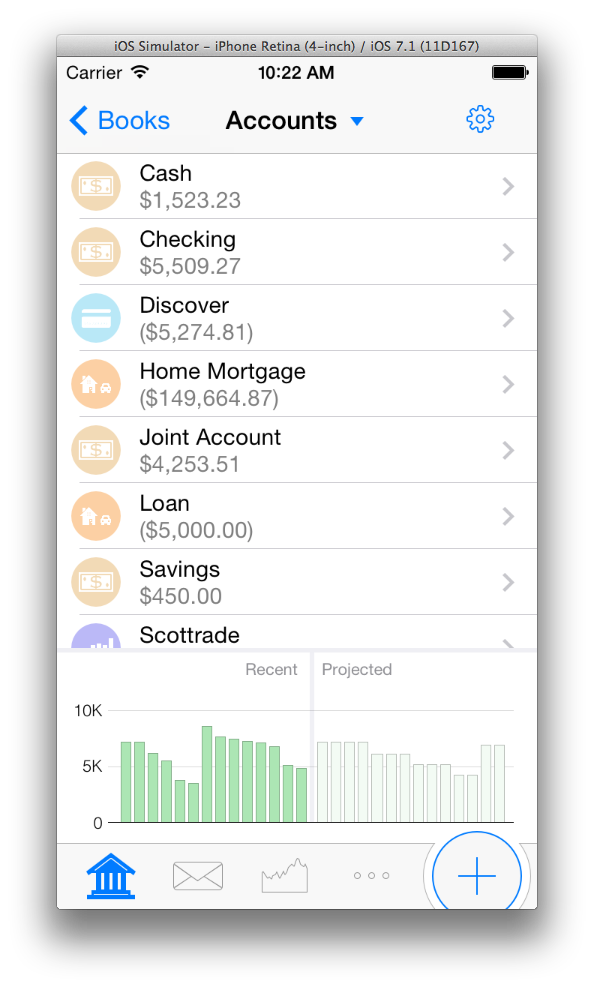 This is the Accounts Screen. Not surprisingly, it shows all of your accounts. Currently this is just a flat list, but I hope for a future build it will group them by account type like iBank for iPad does. From this screen you can drill down into an account to see its transactions. Below the list of accounts are two bars, one showing your recent net worth and one showing your projected net worth. You'll also notice along the bottom are four different buttons that act like tabs to switch between showing Accounts, Budget, Investments and "More." The + button is used to enter a transaction.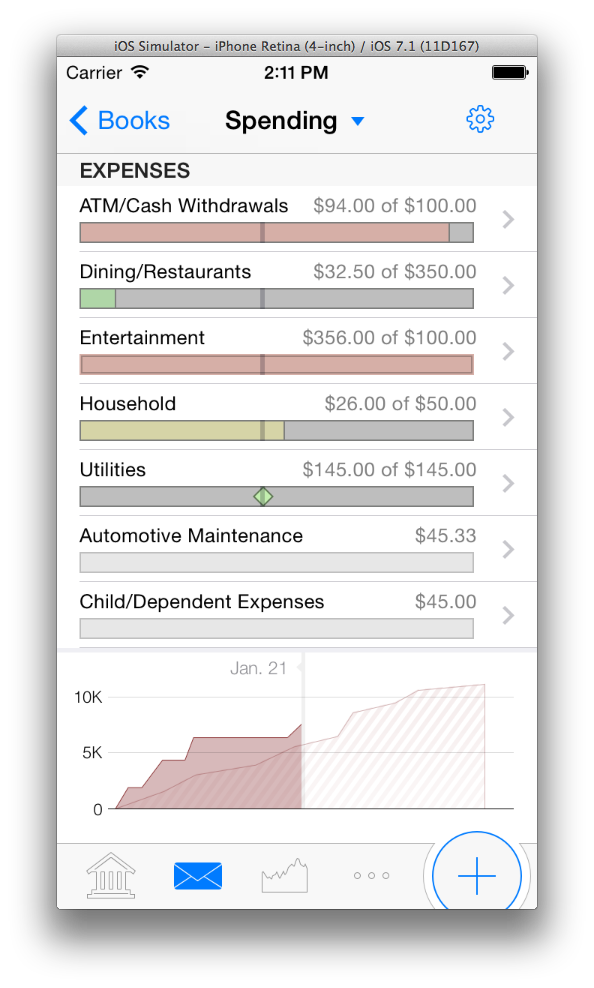 As on the iPad, you can see your budget on the iPhone. At the top of this screen is your budget by category, with visual indicators for bills (the little diamonds) and progress bars for gradual spending, like groceries. Along the bottom is a current snapshot of how well you are sticking to your budget. iBank for Mac and iBank for iPad users will find this type of budget graph familiar as it already exists in the shipping version for those devices.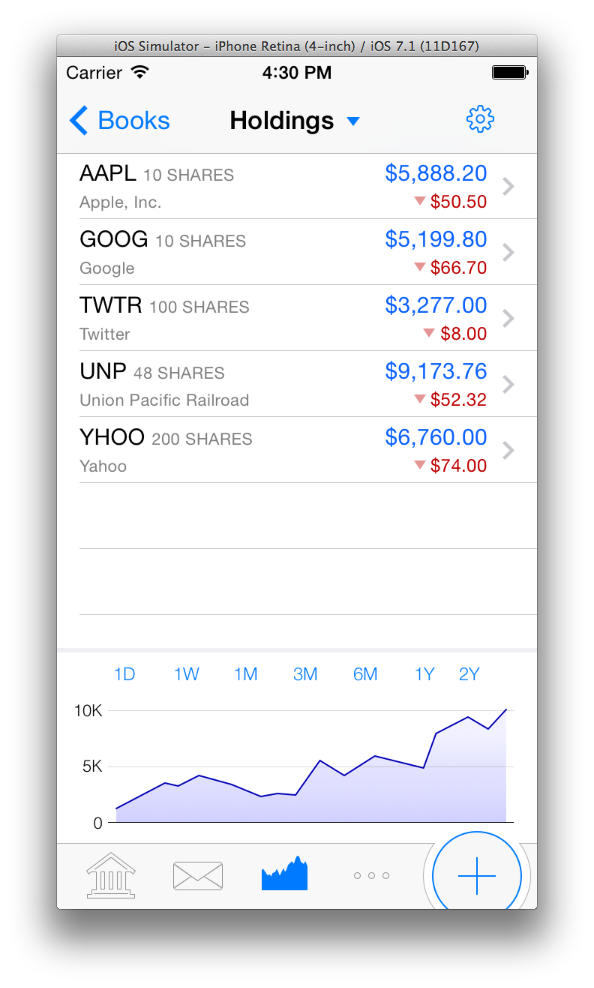 The last screenshot I want to talk about is the Holdings Screen. This is a view that pulls all of your investment data, across all accounts, and displays it summarized by security. This new way of displaying securities is something that users have wanted for a while and it's making its debut in iBank for iPhone. You can toggle between what information is displayed by tapping the amounts column. This will switch between showing the security's price and daily change, or value and daily gain/loss.
This version of iBank will also use our new sync engine, which we announced late last year. As we've mentioned before, this sync engine no longer requires a Mac to be the hub. At some point in the not-too-distant future, we will dedicate an entire post to our new sync solution. As excited as I am about  sync, I won't go into it any more here, except to say this new version of iBank for iPhone will only use this new sync solution.
I'm sure many are wondering about a the timing of a release. As is customary for this type of project, we don't have a firm date yet. The app is still too young to be promising a release date. Just let it be known that it is currently being developed and moving along at a respectable pace. Since much of the code is shared with its iPad sibling, the development process is a bit faster than normal.
I can't wait to get this app out there!
-Ian

A California native, Ian's academic background was in biology, botany and environmental studies. He comes to the field of technology purely out of personal passion, and has been writing Mac software for over a decade. He's also an avid birdwatcher, a soccer player, fiddler and an organic gardener. He lives in Oregon with his wife and their two sons.

Latest posts by Ian Gillespie (see all)