Hi, this is Ian checking in again to give you an update on what we've been working on since our last post this past spring.
Since I last wrote, Apple held WWDC (World Wide Developers Conference) and unveiled some of their new technologies and features like Passkeys, Stage Manager, WeatherKit and more. Unsurprisingly, they also announced iOS 16, iPadOS 16 and macOS 13 Ventura. We've been watching these operating systems closely and we want to make sure Banktivity plays nice with them once they are officially released.
Behind the scenes here our engineers have been hard at work on three major areas: iOS reports, scheduled transactions and something we haven't talked about previously, push notifications.
iOS report update
We've made great strides in bringing reports to iOS. While we've had the contents of supported reports looking good on iOS for a while, we've spent the last several months implementing editing functionality. On Mac, this is the little popover you get where you can edit the report title, which accounts to include, the date range and so on. Despite its small size, there is a lot of UI complexity there and you can see it looks great on iOS now. (For those interested, this UI was built with SwiftUI, Apple's latest framework for making user interfaces.) Check out these screenshots: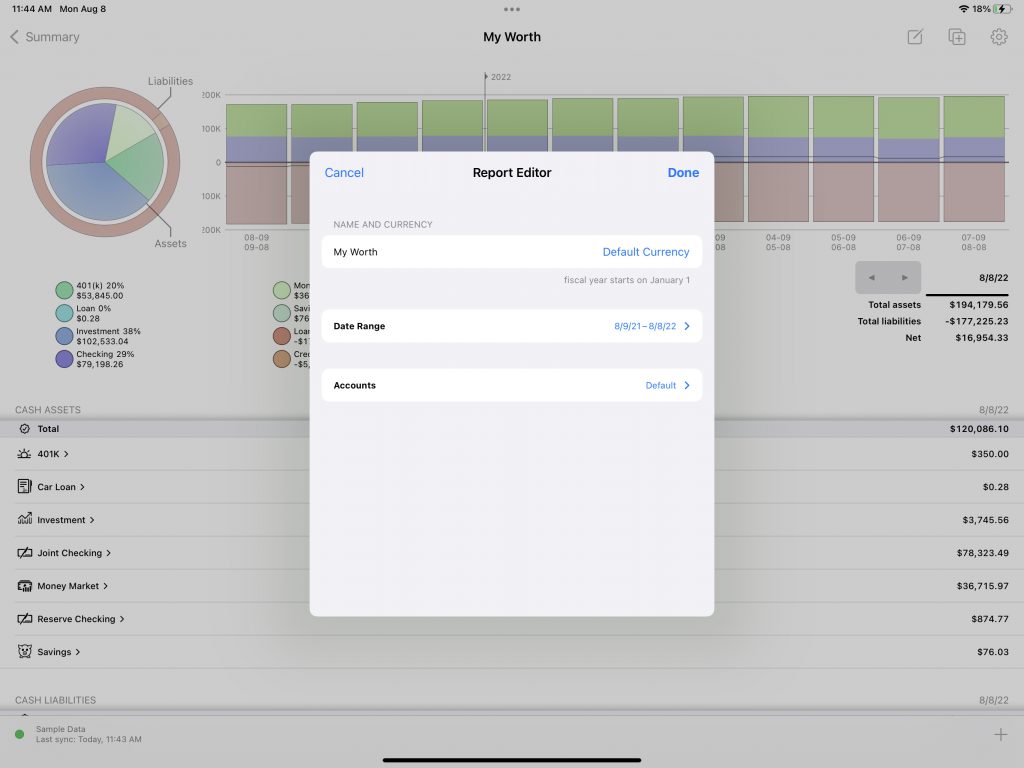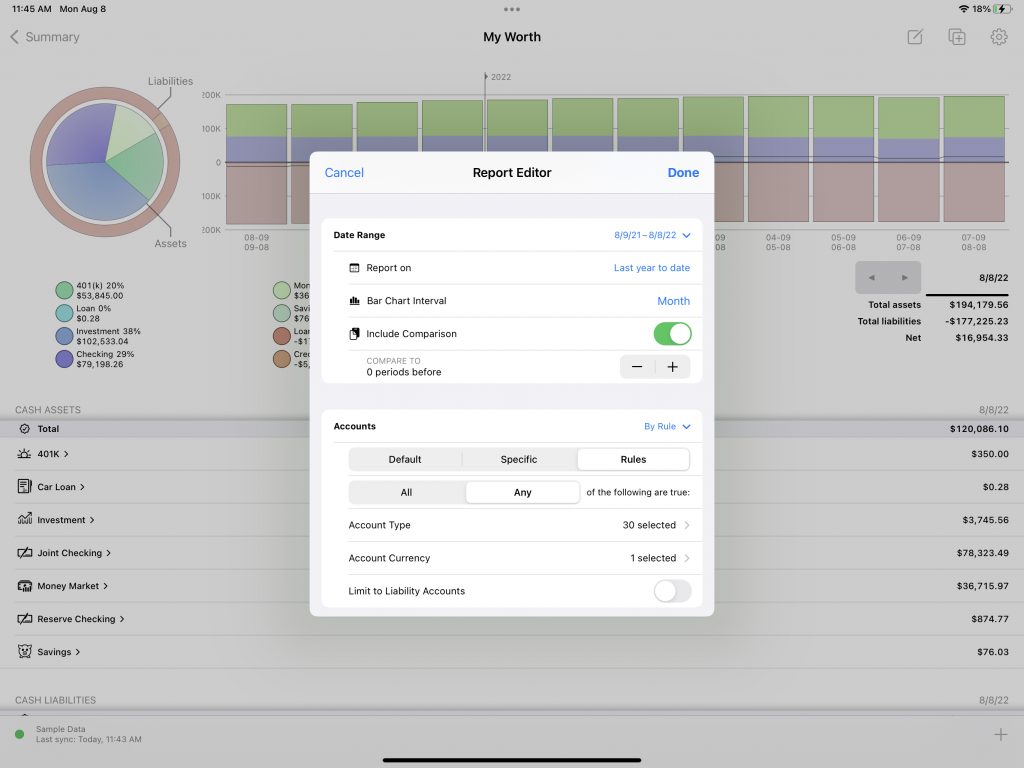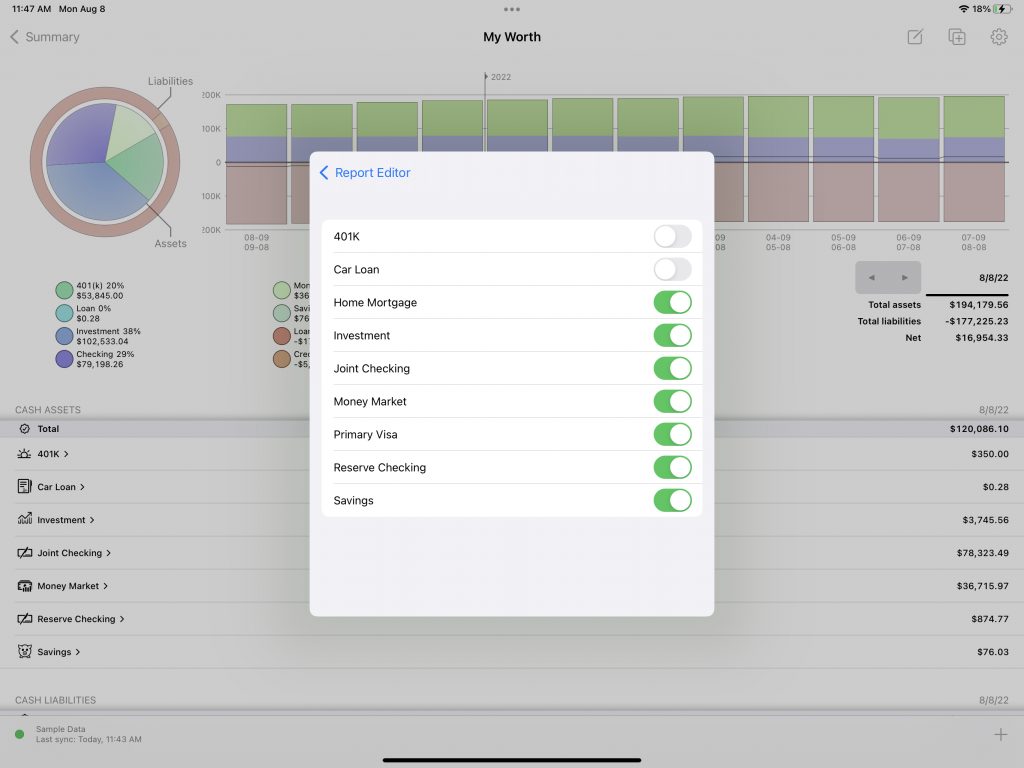 We have the editor done for the net worth report, but there is more work to do to get it playing nice with some of the other supported report types. If you didn't notice it, there are still a few cosmetic issues to address, but I don't anticipate those taking too much time.
Scheduled transactions update
The hardest work of implementing more flexible scheduled transactions is done. With a build of the app I have, I can schedule for dates like this:
Last Friday of the month
Every Tuesday of each week
First Monday of each month
Last Wednesday of each month
Second Sunday of June each year
We put in this new flexibility without breaking existing scheduled transactions in your Banktivity documents (and there was much rejoicing). Here is what the UI looks like on Mac, notice the "Custom" checkbox: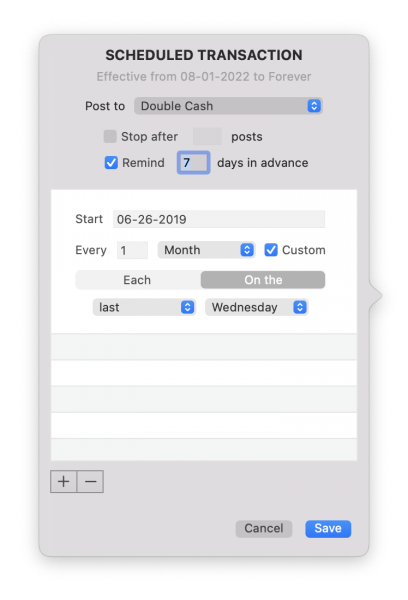 Importantly, this feature is being rolled out on Mac and iOS simultaneously – including support for editing the new "custom" date options on iOS.
We still need to implement the UI for these new options in the scheduled transaction editor assistant on Mac. Once that is done, this feature will be complete.
Push Notifications
One of the features we've been working on that we haven't yet talked about is push notifications. Supporting push notifications is something we've thought about a lot over the years but it never made it above the cut list when it came time to commit to features. Fortunately, with our move to subscription and our continued investment in our end-to-end encrypted cloud sync, some use cases percolated to the top and it's finally time to make it happen.
Push notifications for a better cloud sync experience
Ironically, one of the first push notification we are going live with is one you won't actually see 🙂 I know that sounds, funny, but Apple's push notification system allows for "background notifications" that are never presented to a customer to interact with. We are using this type of notification to improve the customer experience with cloud sync. For a refresher on how our end-to-end encrypted cloud sync works, check out this page.
I'll now dive into how we will use these background notifications to improve our cloud sync service. When a Banktivity cloud sync occurs on any device, our app will send a message to our server saying, "hey, I just pushed some new data up." The other devices will then receive a background notification that says, "hey, if document 'A' is open, you should do a sync, because we just got notified that there are new changes waiting for you." From a customer standpoint, all of this boils down to a better experience because it means that if you leave your document open, the next time you look at it, you'll have the most recent data from the sync server. No need to do another network call and refresh. Boom! It will just be there.
There are some limitations with this. For example, if the app isn't running, it won't launch in the background and update. Or if you have push notifications disabled entirely, this obviously won't work either.
Push notifications for a better subscription experience
When you rely on Banktivity to manage your finances, no one likes an interruption in service because of a subscription lapse. (However, I will point out that if you pay once and let your subscription lapse, the app keeps working in "manual mode", just the connected services like bank downloads and cloud sync stop working.) We try hard to make sure that your account is in good standing if you plan on renewing. We send emails, update information in the app to indicate the state of your subscription. And now, we will also send a push notification letting you know if there is a problem.
With our push notification framework now built out, it will be easier to implement new notifications in the future. We haven't committed to anymore now, but potential is high. What sort of notifications would you like to see arriving on your devices?
Document pruning
In my last post, I talked about a feature we want to build that will essentially allow you to slim down your existing Banktivity document. We haven't started to dive into this code yet so I don't have much to report except that we are still planning on implementing it for Banktivity 9.
Conclusions
I hope you all find this behind-the-scenes look at the development of Banktivity helpful and insightful. I'm getting pretty excited for our next release. We seem to be at the point in the development cycle when the last 20% feels like it is taking 80% of the time!
Hope you all have been having a nice summer (or if you are in the Southern Hemisphere, a nice winter!)
Latest posts by Ian Gillespie
(see all)