With summer now almost behind us, I want to give an update on two major topics: 1) Direct Access and 2) support for Apple's forthcoming iOS 15 and macOS Monterey.
Direct Access Update
Direct Access is our technology that allows you to connect your accounts to your banks and automatically download transactions. Up until we released Banktivity 8, Direct Access was an add-on subscription service that users could optionally buy. With the release of Banktivity 8 and our switch to subscription in October 2020, we bundled Direct Access in with all subscriptions levels.
We released a beta version of Direct Access 2, our next-generation connectivity service, in May of 2021. In addition to improved reliability, better security, and user experience, DA 2 also supports connecting to banks in the UK and EU. In July we officially took DA 2 out of beta and made it the default for all new connections setup within Banktivity. Moving DA 2 out of beta marked a significant milestone in our roadmap as we can now begin the process of phasing out our legacy Direct Access system.
For new customers, or really, any customer setting up an account for the first time, Banktivity will now establish a connection to your bank using Direct Access 2. For those customers that have existing DA 1 connections, we will be releasing a built-in assistant that walks you through converting your connections to DA 2.
Phasing Out Legacy Direct Access
The future of Direct Access is Direct Access 2. Our legacy Direct Access infrastructure has served us well and has been going strong for about 10 years. However, during that time technology and security have marched forward. We built Direct Access 2 to continue moving us forward using best practices for security, user experience, and importantly, to work with the latest technologies from our backend providers.
The first phase of discontinuing legacy Direct Access will be to stop selling subscriptions to it in our older versions of Banktivity (versions 5, 6, and 7). Our plan is stop selling subscriptions to DA 1 sometime between now and the end of the year. After we do that, we will keep the legacy service running long enough to let customers finish out their subscriptions.
If you are currently using Direct Access with Banktivity 5, 6, or 7 I strongly encourage you to upgrade to Banktivity 8. Please note that when you upgrade to Banktivity 8 you can prorate your remaining legacy DA time to the new v8 subscription service (which includes Direct Access 2). In addition to converting over your time, you also get all of the great new features and functionality in Banktivity 8 like goals, new iOS apps, and more. If you have additional questions about upgrading, please take a look at this page we put together.
New in Banktivity
We are quickly approaching the month(s) when we expect Apple to release iOS 15 and macOS Monterey. We've been testing Banktivity 8 on these new operating systems and we plan to fully support them on the first day they are out. Of course, given we don't know exactly when these will drop, consider this a goal and not a promise. Regardless, as I hope you've learned by now, we are committed to supporting the latest operating systems from Apple as quickly as possible.
Please don't think all of our resources have just been put into supporting the new operating systems. Our engineering team has also been working on some deep foundational changes to allow us to adopt new Apple technologies and new features. For example, Banktivity 8.5 will support Hand-off, Quick Note, and improved multi-tasking features on iPadOS. While I know these features don't have to do with managing your finances per se, they do help us eliminate some technological debt. When we have less technological debt we are better positioned to develop new features and remain nimble in the event that we need to fulfill some unforeseen requirement.
Screenshot of Quick Note on iPadOS 15.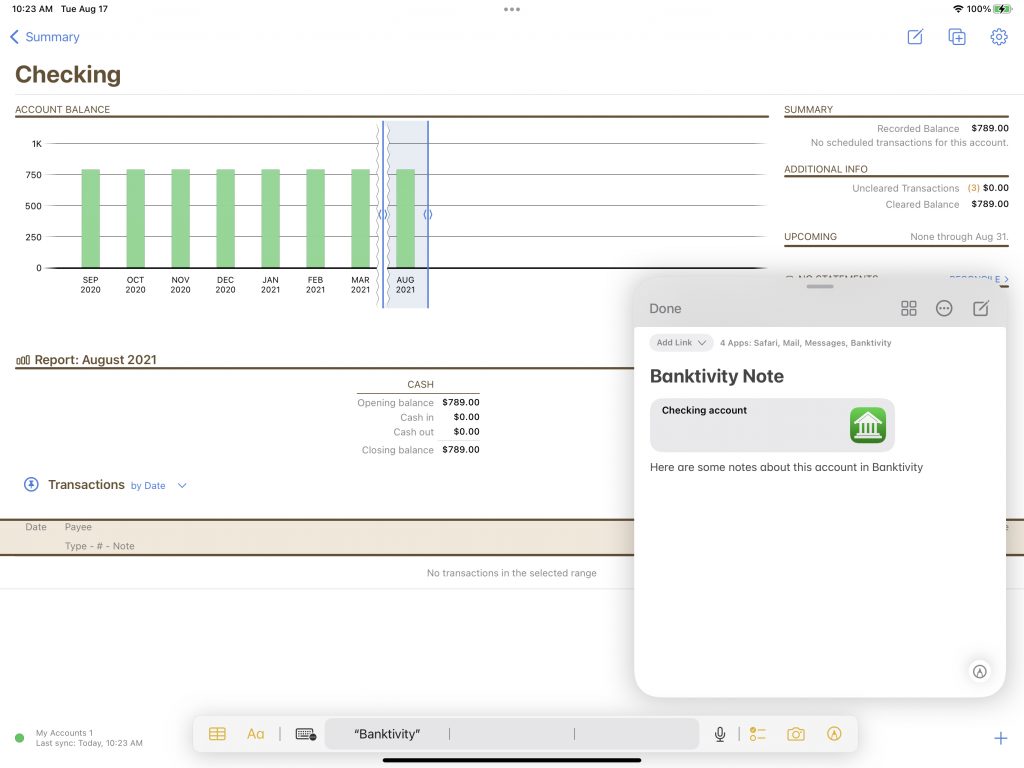 Screenshot of multi-tasking on iPadOS 15.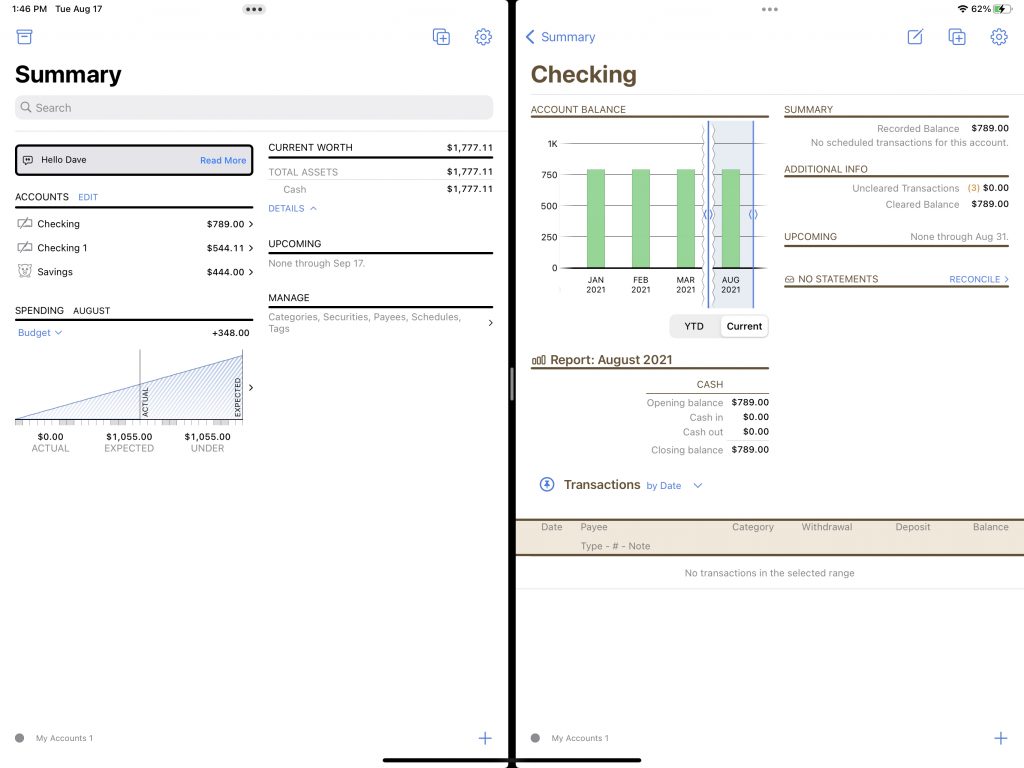 We plan on shipping Banktivity 8.5 in early fall.
Conclusions
We launched the new Banktivity less than 12 months ago and we've already done four major updates and brought you great new features like Direct Access 2 with support for UK/EU banks, improved budgeting, new account types, tags to scheduled transactions and more. We've also fixed a ton of bugs to make the app more stable and predictable.
I know that there is still more work to do and that it's quite possible that your favorite request hasn't been implemented (e.g. reports on iOS, archiving data files, New Zealand stock quotes, and so on). However, I hope you can see that with the switch to subscription we are continually working on making the app better. We love making the best suite of personal finance apps and we truly appreciate your support.
Latest posts by Ian Gillespie
(see all)