Today I'm going to share some of the new features and improvements we have coming for Banktivity 8.2 on Mac and iOS. First, I'm going to cover some improvements that have been implemented in Mac and iOS simultaneously, then I'll cover some of the bigger, specific changes to each platform.
However, before I dive into all of the goodies in 8.2, I want to give a very brief update on Direct Access 2 and Open Banking support for the UK and EU. In short, everything is still on track. As planned, the new DA 2 and Open Banking support will be coming in a subsequent release. I just want to let everyone know things are moving ahead simultaneously on these fronts while we've been working on Banktivity 8.2.
New in Banktivity 8.2 for macOS & iOS
New Account Types
We are bringing some new account types that should be popular with our international customers. Specifically, with Banktivity 8.2 you'll be able to choose these new account types:
Current (common in the UK)
RRSP (common in Canada)
RESP (common in Canada)
The RRSP and RESP support investment transactions, while the Current account is essentially identical to a Checking.
Portfolio improvements with multiple currencies
If you track investments in multiple currencies, we now show the performance of each account in its native currency. If you choose to show your investments by type or risk and you have multiple currencies, we now group these by currency. This way we only use an exchange rate when summing up across accounts in different currencies. Ultimately, this results in a much more accurate picture of your investments in different currencies.
Banktivity 8.2 for Mac
Enhanced Drag and Drop on Mac
We've supported drag and drop in Banktivity for Mac for a long time. But for the last couple of years, our drag and drop support hasn't changed much. For transactions you can do two things: rearrange them if they fall on the same date, or merge an imported transaction with a manually entered one. For accounts, drag and drop allows to you rearrange them so you can customize the sidebar to your liking.
With 8.2 we are adding a couple of nice improvements to drag and drop. First, you'll be able to drag and drop transactions from one account to another. You can do this by dragging between two different accounts open in two workspaces or windows, or by dragging a transaction onto an account in the sidebar. This is a feature that has been requested by customers and I'm happy to be able to bring it to life. Second, with 8.2 you can drag an importable file, like a QIF or CSV file, directly onto an account in the sidebar. For those that still occasionally import a file, this is a nice enhancement.
Find uncategorized transactions
For a long time, our customers have wanted a way to easily find their uncategorized transactions across all accounts. There was a way to do this, but it was pretty "hacky" and involved setting a report to include uncategorized income and expenses (that part is straightforward) but to prevent all categories from showing up, you also need to tell the report to include only one category and make sure that category isn't actually used in the file (that is the hacky part). We never liked this, so now, you can tell a report to just exclude all categories and report on uncategorized, and voila! You see just your uncategorized transactions.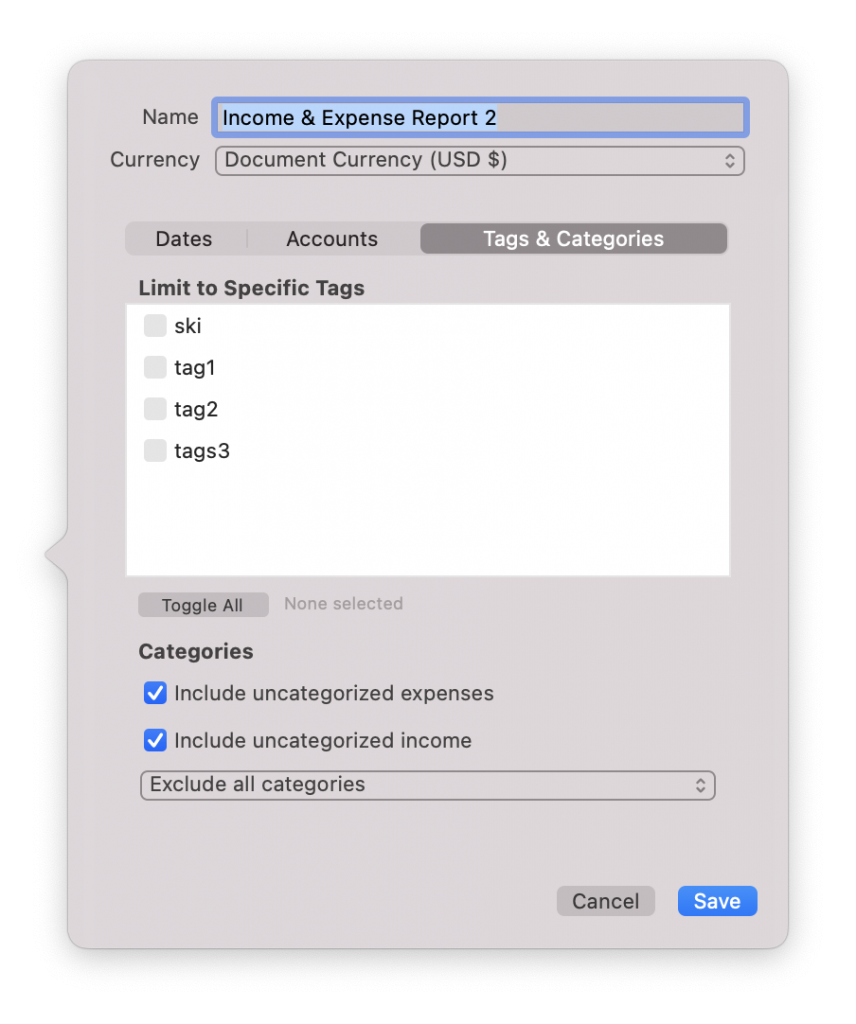 (If you want to find uncategorized transactions in a specific account, that can be achieved by clicking the down arrow button next to "Transactions" and choosing "Uncategorized".)
Auto installer
When we release Banktivity 8.2.1, the update process will be entirely new! You'll get a nice presentation of the main changes in the new version and you'll be able to download and install the new version without downloading a disk image (dmg file) via Safari or other browser. We thought about using Sparkle for this, which is an open source installer, but we decided to roll our own so that we can control the experience and make sure we can play nice with any upcoming security improvements Apple might introduce.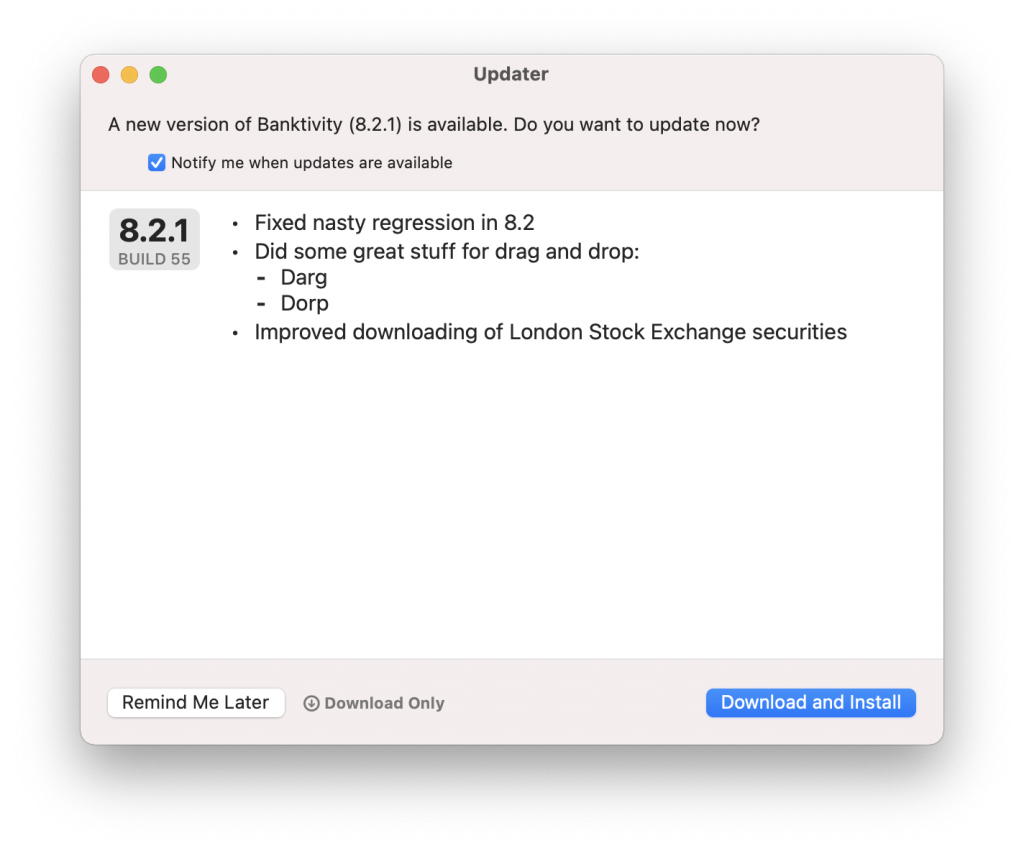 Duplicate transactions
We've added a contextual menu to the account register. You can now, option-click (aka "right click") on a transaction and choose Duplicate. And it will, not surprisingly, duplicate the selected transactions. This is a small improvement, but one that customers have requested for a while.
Other Improvements
We've made over 20 fixes and other small enhancements. I won't go into all of them here, but you will be able to see them in our release notes once 8.2 goes live. Suffice to say, we've fixed one of the most common crashers, improved envelope budgeting descriptions when money is moved in and out of envelopes, and more.
Banktivity 8.2 for iPhoneOS and iPadOS
Our iOS apps continue to get lots of love as we dance between invisible code maintenance and improvements visible to the customer. I won't bore you with some of the new things we are doing with UITableViews to make our code more modern. Instead, I'll focus on the enhancements you'll notice.
New settings to customize importing and updating
We are happy to bring additional parity to our iOS apps for importing and refreshing. Now when you tap the gear icon in the upper right you'll get a bunch more options. Specifically, you can now set if we should automatically download transactions via Direct Access, sync with the cloud, and/or update security prices and currency exchange rates. We also added new import options. Here is a screenshot of all of the new options.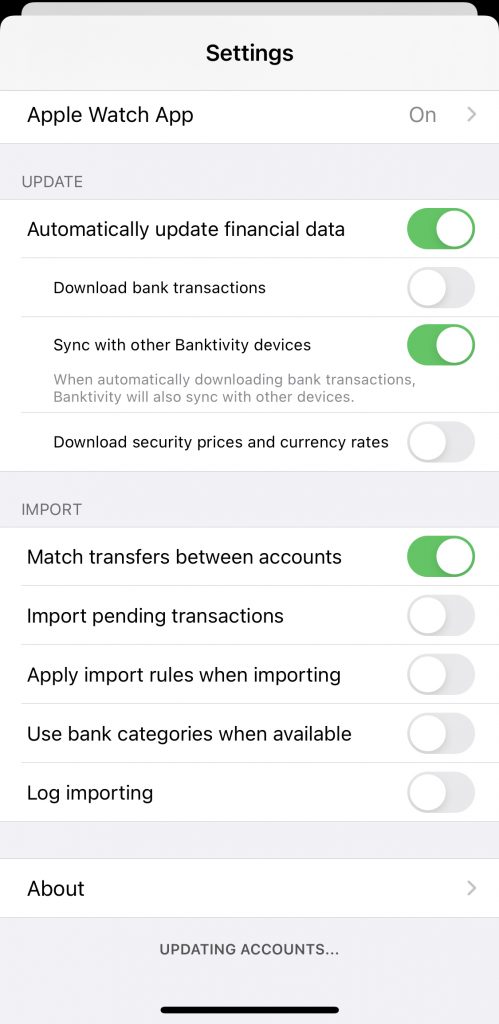 I'm particularly excited about having cloud sync set to update automatically without downloading bank transactions too.
Edit accounts when setting up from Direct Access
When adding a new account via Direct Access, you can now edit the name, type and currency like you can on Mac.
Other Improvements
Our iPhone and iPad apps have received numerous smaller, yet noticeable improvements. For example, we do a better job now of selecting the bar chart date range if you have future dated transactions, specifically, you can specify if you want to include the future date transactions or not. You can now tap to view transaction details from within a budget. Additionally, we made improvements to the statement editor and addressed many other smaller UI glitches.
So when will these be available?
I'll try and get out in front of this question as I know it will likely get asked in the comments. The short answer is, "when it is ready." But I know that kind of answer isn't very helpful so let me tell you where we are in the development cycle. We are currently testing Banktivity 8.2 internally. We will likely need to rebuild it twice if not three more times to find and iron out all of the last kinks. So given that, I'm expecting we release it sometime this month (March).
As always, it's a pleasure to be able to add new features and fix bugs. With our move to subscription, I think we are hitting our stride with releasing solid updates on a good schedule and I'm looking forward to getting Banktivity 8.2 out to you all!
Latest posts by Ian Gillespie
(see all)