Every day I use Banktivity on my iPhone X. When I'm out and about I'm either entering transactions on the go or checking how much is in the Household category before buying stuff at the hardware store.
Later on, when I'm at home in the kitchen I usually whip out my phone to answer some question about the budget. Seems like these days we are checking to see if we can afford some minor home improvement projects like landscaping the front yard or reworking the back patio. Later on in the night, I often find myself shuffling money between envelopes to cover some expenses from earlier in the day.
Summary Brings More Clarity to Your Finances
Having ALL of my finances on iPhone is extremely convenient and productive. But I know I'm not the only one who wishes Banktivity for iPhone showed a little more information like it's big brother Banktivity for iPad. This is especially true for those that just use Banktivity for iPhone without Banktivity for Mac. These folks have no way to see their net worth, get a quick overview of how well they are sticking to their budget, or check on their most interesting investments. Now some of this info is available after several taps, but wouldn't it be nice if there was a summary screen where they see their most important financial bits altogether?
Well, coming soon to an iPhone near you, you'll get that long-awaited summary!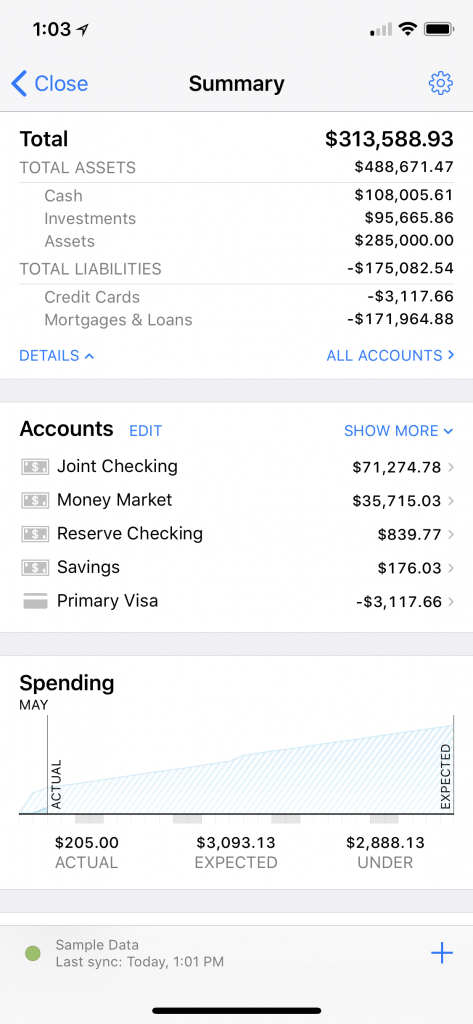 As you can see we've been hard at work on a new summary screen for our iPhone app. At the top, we call out your net worth and sub-totals break this down even more. If you tap on the entire panel, it drills into the current account screen. You can also tap the "DETAILS" button to expand and collapse the sub-total section.
Below the new net worth panel there is an area that shows your most frequently used accounts. This area is customizable – you get to decide which accounts make it "above the fold." If at any time you want to see more of your accounts just tap "SHOW MORE."
To change which accounts are visible tap "EDIT." This pushes on a new screen with a really easy way to 1) re-arrange the order of the accounts and 2) decide which accounts should be "above the fold." This is all done via drag and drop.
I'm quite proud of the screen to configure which accounts make it above the fold. It's super easy to drag accounts above or below the "cut line" and you can re-order accounts within each section too. You can even just drag the "cut line" to where you want it.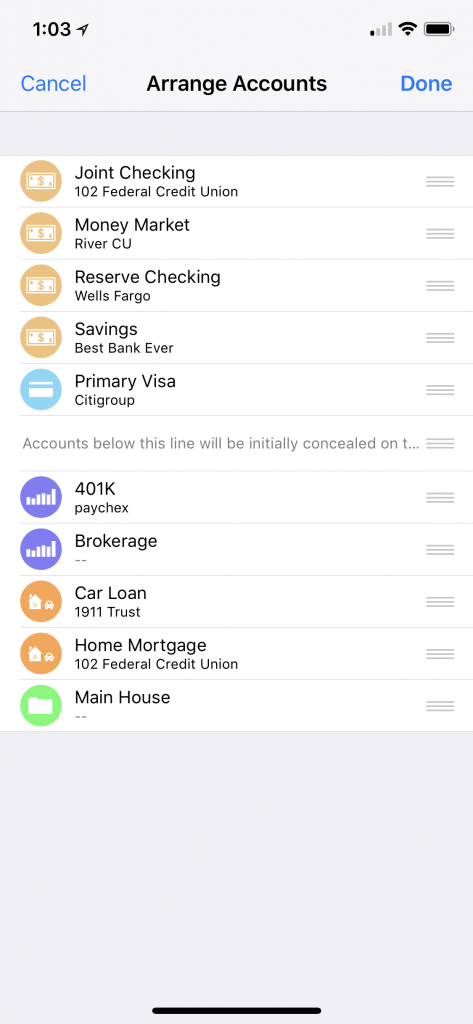 Below the accounts panel is an overview of how well you are sticking to your budget. Similar to the budget graph we have on our iPad and Mac products.
While not shown in the screenshots above, we are also adding jumping off points to your investments and the manage section of the app (you know the place where you can change/edit your categories, tags, etc.)
Improvement to Navigation
We are also taking this opportunity to address a weakness in our app flow. Have you ever been looking at your budget on Banktivity for iPhone and then tapped the back button to go back to the accounts, only to realize you just closed the document? I still do this occasionally after years of use. So when we roll out the summary screen it will become the new launching point for the rest of the app. Tap Accounts> to see all of your accounts, tap Spending> to see your spending/budget and so on. Then when you tap the back button, accidentally or on purpose, it will just return you to the Summary screen instead of closing your document.
That's all I have for you today. A short, but sweet update on some great changes coming to Banktivity for iPhone. Please keep in mind these screenshots are still in draft form and will likely change before this new version hits the App Store.
What do you think about Banktivity for iPhone? Are we taking it a step in the right direction? Let us know in the comments!
Latest posts by Ian Gillespie
(see all)