I really don't like going several months between blog posts. The last time I wrote from my office in Vermont, there were plenty of summer crickets chirping away. Today, as we approach Thanksgiving, the temperatures have dropped substantially — there is still thick frost in the shady areas on the ground.
I'll reiterate what I said in my last post, and that is, when it gets this quiet around here, it is because we have our noses to the grind stone working on projects we can't yet talk about. So instead, let me talk about some other news in IGG…
iOS Apps
On the app front, we continue to release bug fixes and add features to our existing product line up. For our iOS products, version 3.0.1 came our recently and 3.0.2 is about to be submitted for review. Version 3.0.2 has some great fixes that improve cloud sync and brings the math function keys back to the iPad when editing transaction amounts. And new for iBank for iPhone 3.0.2  you can schedule any transaction template without going through the budget editor.
iBank for Mac OS X
On the Mac side, iBank for Mac 5.6.3 came out a few weeks ago that fixes a bug with exchange rates and added a new preference to turn off auto-matching of account transfers if you want (see iBank > Preferences > Advanced). We added this preference after several customers really asked us to make this optional. Before the default was transfers across accounts were always automatically linked. While this works great for most people, occasionally it could match two transactions that aren't really transfers. This wouldn't affect your account balances, which is good, but it did indicate that a certain financial action occurred (transfer) when in fact it really didn't. So now, you can choose if you want iBank to auto link transfers.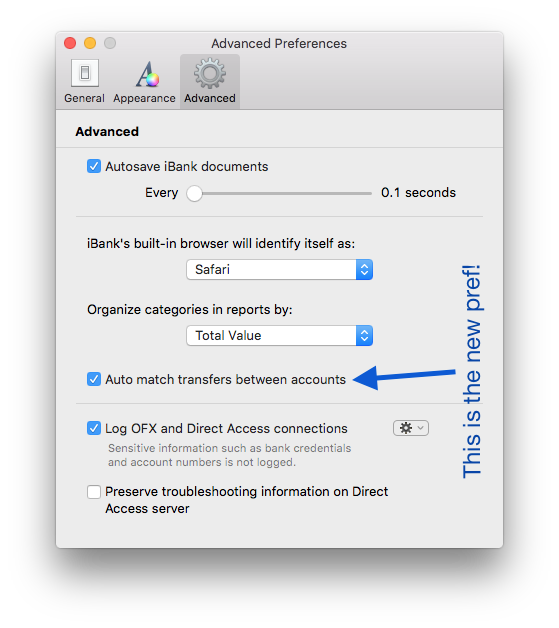 iBank for Mac 5.6.4 is already under development and it fixes a great threading bug with stock quote downloads. It also fixes some bugs with budgets and the overview screen and budget set up. There aren't any new substantial features in this fix, but definitely some good fixes.
Website
If you haven't noticed, we rolled out an entirely new website. This new website is responsive so it works well on any screen size. This is also important because apparently Google page rankings are now incorporating how mobile friendly websites are. The new website gives more emphasis to the fact we have a Free Trial for iBank 5 and it does a much better job helping people understand how iBank will help them with their finances. We no longer just highlight features; we also now highlight how iBank can help build savings, control spending and plan for your financial future.
I hope everyone has a nice holiday season as we move into this busy time of year and I look forward to writing again in the future.
-Ian

Latest posts by Ian Gillespie
(see all)