Now that we have talked about what is coming in iBank for Mac, let me loop back and talk about where we are with iBank for iPad. Though we quickly submitted a large set of fixes addressing some of the major issues that users found with version 1.0, we are still awaiting App Store approval of 1.0.1 so that you can try out… and it should be any minute now (but that's what we said last week). I am really happy with this round of fixes, but one of the issues that 1.0.1 does not address is the time it takes to do an initial sync. For 1.1 we are working to improve the performance of sync, focusing on the the time of the initial sync and the progress feedback that sync gives. We are also looking at improving the syncing of current security prices so that investments more closely match iBank for Mac.
Another thing coming to iBank for iPad 1.1 is improved help. One of the biggest complaints we are getting is that the app can't do something that users want – when actually, it can. There LOTS of cool, hidden features in the app, but we may have been a little too clever for our own good. The problem (and it is our problem) is that if you can't figure out how the software works, then it is no different than the software not working. So we are adding in application contextual help. You can turn it on from a new help button on the tool bar, and when you do this is what you see: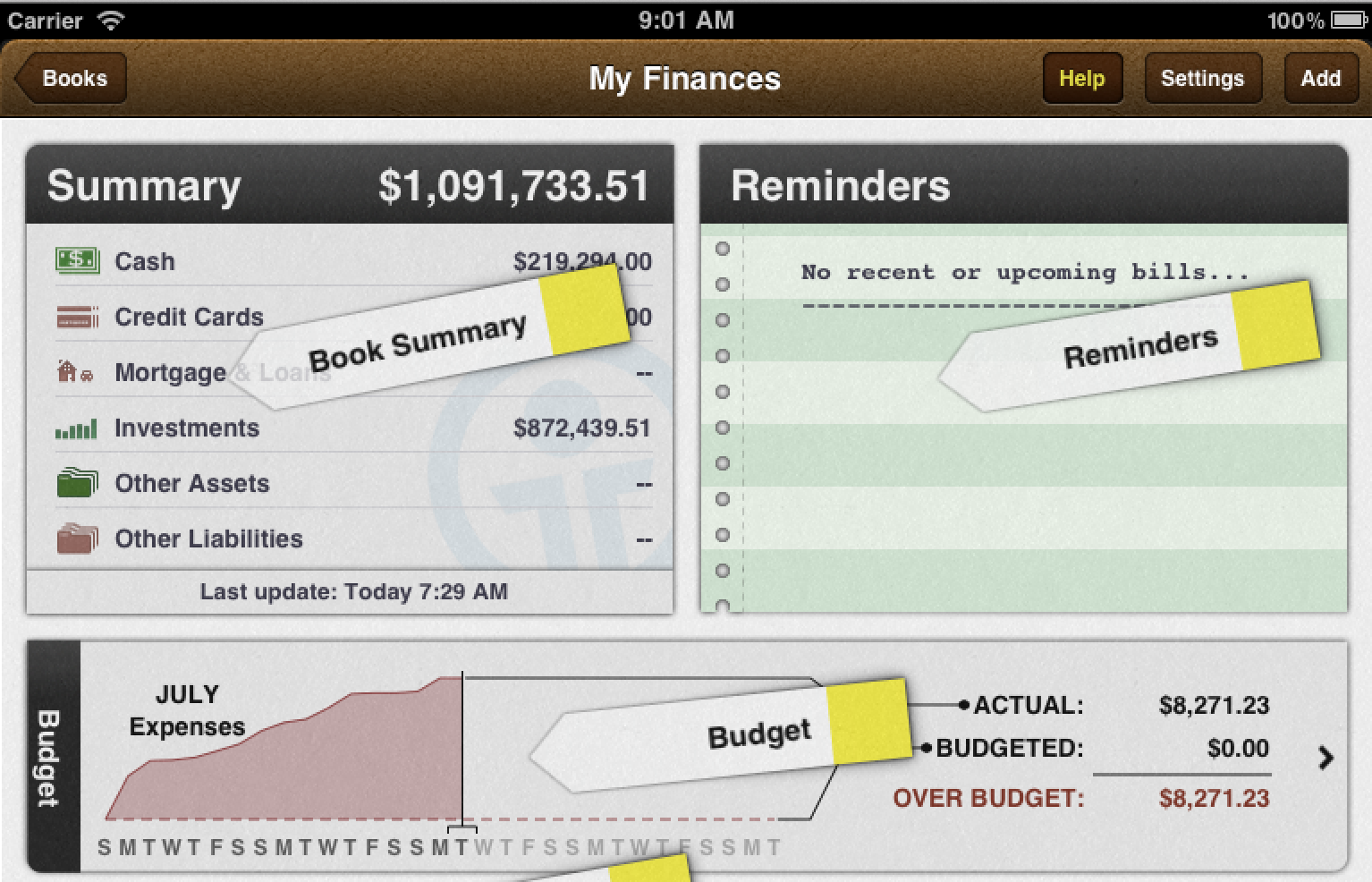 Each help marker points to the part of the product that the help applies to. You can tap on any marker to get the help for that section. We hope that this greatly improves the usability of iBank for iPad.
One other common concern with the app is that budgets don't sync between the Mac and iPad. This was done on purpose. On the Mac, there are really two ways to set up your expected income and spending: the first is the standard budget in iBank for Mac where you enter in your expected income and expenses on some periodic basis. The second way that iBank for Mac allows you to model your income and expenses is with scheduled transactions. These allow you to forecast your income and expenses, by account, into some arbitrary time in the future. On the iPad, iBank has a unified model for budgeting that allows for both of these methods. Looking ahead, we are going to develop budgeting iBank for Mac to be more like iBank for iPad. Eventually we want budgets to sync, but it will require some work on the Mac side first.
Now this does not cover all the things that we want to improve about iBank for iPad. We see this launch as the beginning and not the end. We really want to hear from you!  Please tell us what you like, and what you don't, what works, and especially what does not. The best way to do that is by chatting with our support team. One key tip: If you are experiencing crashes, please connect your iPad to iTunes. This will send the crash report to Apple, who will pass it along to us, which really helps us find and fix issues faster.
With a development team now deployed among all apps here, we are working hard to fix things that are broken, build the things that are missing and in general make our apps better. And more than ever, we value your input.
Thanks,
James

Latest posts by James Gillespie
(see all)