Even if we don't yet have a name for it, development of iBank for iPad has been on going for over a year now. In an earlier post I talked about some of the design decisions and metaphors used for iBank for iPad. There is one in particular that is relevant to the short tour I'm about to give of iBank for iPad:
You can think of it as having your own personal financial report  on your iPad. If you sat down with a financial planner who asked a series of comprehensive questions to get a handle on your finances, what you would walk away with would be like our iPad app — your complete financial picture, always up-to-date.
The screenshots you are about to see are not polished and not final. Some still contain debugging code and some have pretty poor formatting, so please ignore this for now. For this post I want to offer of a broad overview; future posts will delve into specifics of its functionality.
So without further ado, here is one of the first screens you'll see in iBank for iPad.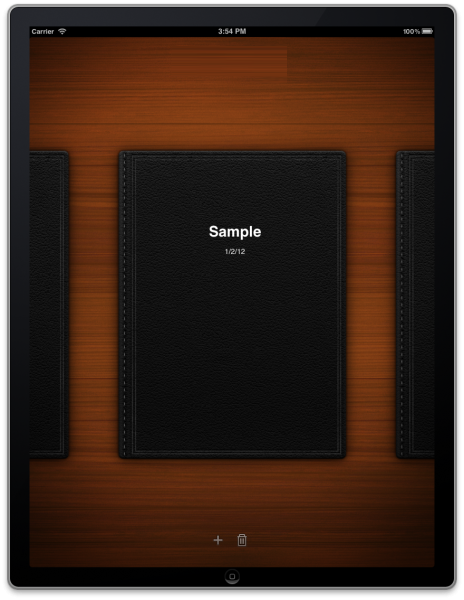 In this screen you can see we've embraced a "portfolio on a desk" metaphor. Each portfolio is an iBank document, and so yes: this app will support multiple documents (unlike iBank Mobile). A swipe gesture lets you browse the documents, the + button creates a new one, and the trash icon deletes the centered document. When you press the + button, you are taken to a modal "assistant" that walks you through document setup. Tapping one of the leather bound portfolios opens it to reveal the "document home screen":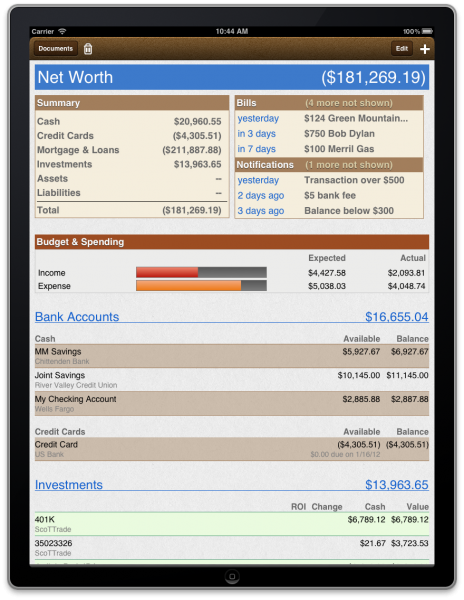 The Document Home Screen is the heads-up display (HUD) for your financial life. Everything you wanted to know is here. The idea is that you are looking at a financial report that is on "magical paper" — with binding on top (which conveniently acts as a toolbar). The paper can expand in size to accommodate users with lots of accounts and it responds to various touch gestures including dynamic interactions. At the top of the page you'll notice there are two boxes: summary information for all classes of finances, and to the right of that, your upcoming bills and notifications. You'll also see that all of your accounts are listed and grouped into general categories: "Bank Accounts," "Investments," "Mortgages and Loans," etc.
Touching the various elements causes a new sheet of paper to slide in from the right. For example, if you tap "Credit Card" the new "sheet of paper" that slides in shows the details for that account: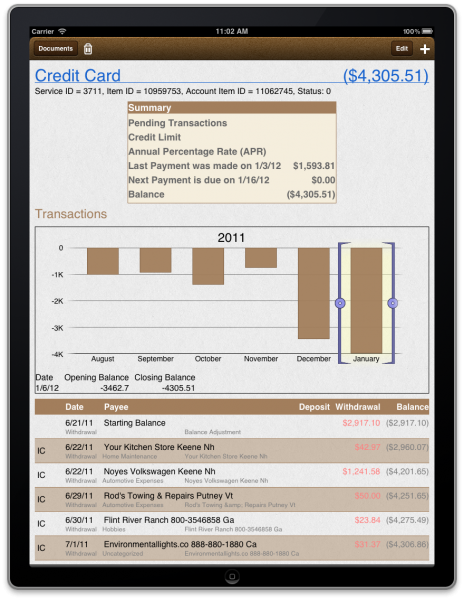 Although it isn't evident in this screenshot, the selection on the bar chart drives the transaction list below. So if you wanted to see transactions from September to November you would select that range in the chart. To edit a transaction, you simply tap it, and to get back to the Document Home View, you just swipe the page to the right to make it go away. (You can ignore the debugging info at the top of the page — as I said, these screens aren't polished.)
From the Document Home Screen, if you select an investment account a new piece of paper slides in, but we customize what is displayed to emphasize the investments in the account.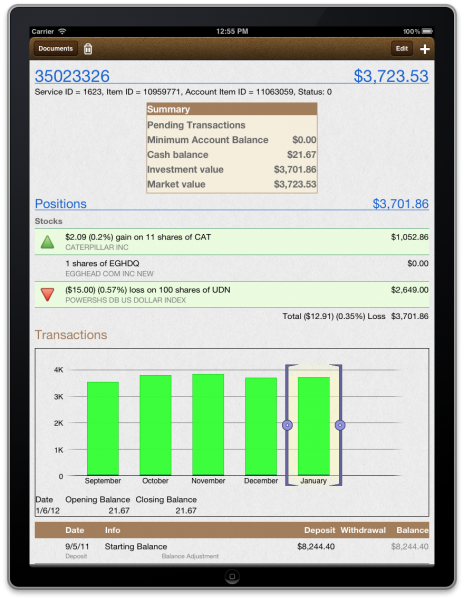 Notice on this screen the Positions table (but ignore that temporary green color used in the bars). Here you have an overview of how each of your investments is doing. Tapping a position slides in a new sheet showing additional details of the specified security along with a list of all transactions associated with the security in the account.
So that is a brief overview of iBank for iPad. I haven't shown all of the screens as I want to save some goodies for the next post. But this should give you a pretty good sense of how this app will work and how to navigate through it.
-Ian
Latest posts by Ian Gillespie
(see all)