September 16th, 2014
Now that we have the official release date from Apple for iOS 8 (September 17), we can share more of our plans for iBank for iPhone. iBank for iPhone will be iOS 8 only and it should hit the App Store in early October!
This release will be a paid update and the app will cost $9.99. However, we plan on doing an initial rollout at $4.99 to let our existing customers (and new ones) get it for an "upgrade price." It will require buying and downloading an entirely new binary (the fancy term for App). This also means that if you are syncing with iBank Mac, you will need to do a new sync setup to get your data over. We've also built in a QIF importer for setting up new documents only – we added this feature for our customers that use iBank Mobile as a standalone app because it can export QIF files.
Now that I've gotten some of the logistics of the release out of the way, I want to talk about the final feature set and show some final screenshots. Here are some of the best new features that will be in this release that I didn't talk about in the last post.
DIRECT ACCESS
Yes, Direct Access is coming to iBank for iPhone. As many of you know, this is our optional, automated transaction downloading service. So now you can download the latest transactions in your accounts right into your phone while you are out on the go. On the main accounts screen, each account is badged with a green dot to indicate the presence of recently downloaded transactions: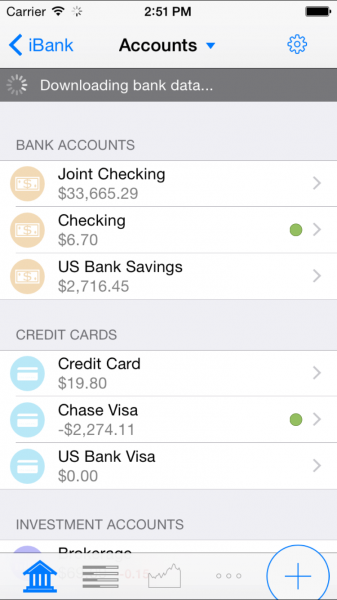 VENDOR LOOKUP
At the heart of our iPhone product has always been the ability to quickly enter transactions on the go. Yes, some people like to be that on top of their finances — enter it as soon as it happens (I've been guilty of this on occasion). One of the features we've added to make this easier is vendor lookup. Now when you go to enter in a payee, there is a location services icon. If you tap it, iBank for iPhone will get your current location and get nearby vendors. It will present these to you in a list, or you can type to filter down the list, or just enter a new payee that isn't in the list. If you select a payee that has been used before, we auto-fill the category and transaction. All in all, it makes for a very quick and easy way to enter new transactions on the go.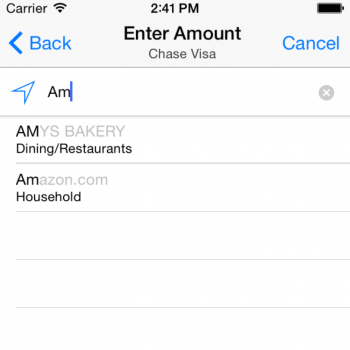 TOUCH ID
Passcode protecting files has been a feature in many of our apps to help prevent causal observers from seeing stuff you'd rather keep private. One problem with this feature is that if you are trying to enter transactions while literally walking out the door, the passcode screen adds another step before you can enter your transaction. Touch ID authentication now makes it really easy to get past the passcode screen. Of course this feature is only available on devices that have the Touch ID sensor.
MULTIPLE FINANCIAL BOOKS
Also new for iBank for iPhone is support for multiple financial books, just like iBank for iPad and iBank for Mac. So if you need to manage multiple documents, you can now do that right from the phone.
INVESTMENT TRANSACTIONS
One thing that always prevented iBank Mobile from feeling really complete was the lack of security transaction support. I'm pleased to announce that in iBank for iPhone you will now be able to add, edit or delete security transactions. The app also pulls stock quotes to provide near real-time investment price valuations.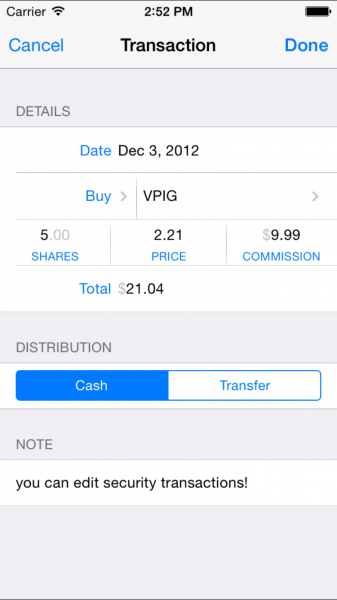 MARK TRANSACTIONS CLEARED
This was a widely requested feature for iBank Mobile and we implemented it for iBank for iPhone. This is done by swiping any transaction to the right where a button is revealed to mark it cleared or not cleared. And for the record, swiping to the left reveals the standard "Delete" button to remove a transaction.
I'm really proud of this product. I've been using it for weeks and I love it. It's fast, smooth and transaction entry is easy. iBank for iPhone will be out soon and I can't wait for you all to get your hands on it.
-Ian