May 16th, 2013
In my previous post I went into some detail on the improvements we are making to budgets. In summary, we are allowing for users to set up for the most basic scenarios, while still providing ways to track more complex budgets. Past blog posts have also focused on how these changes are being integrated in iBank for iPad. Today I'm going to talk more about budgets, but I'm going to focus on what we've been doing for the Mac.
Currently, iBank 4′s budgets have three different views: one for basic budgets, one for envelopes, and one for reporting (and printing). This is cumbersome to say the least. If you aren't using envelope budgeting (which is optional), then you have one view that provides zero value. If your preference is the basic view and you want to print it, then you have to click on the report view, adjust how that looks and print that. This setup has bothered me, and I'm glad to say we'll be moving on to something better.
One of our main goals for improving budgets on the Mac was to create a single, integrated view that provides all of the information and functionality the user wants and needs, including printing and page layout support. Specifically, this new view needs to support drag and drop for envelope budgeting, editing of budgeted values, page layout for printing and general interactivity (e.g. "click to see more info"). We also need to present the data in a clear, concise way and make sure that for those who do not use envelope budgeting, there aren't extra UI elements that clutter the view. From a broader perspective, we also wanted to improve budgets from the previous iteration. That is, what changes could we make to the UI and the data we display that will be more useful to customers? Below is a screen capture of our new budget view (still a work in progress):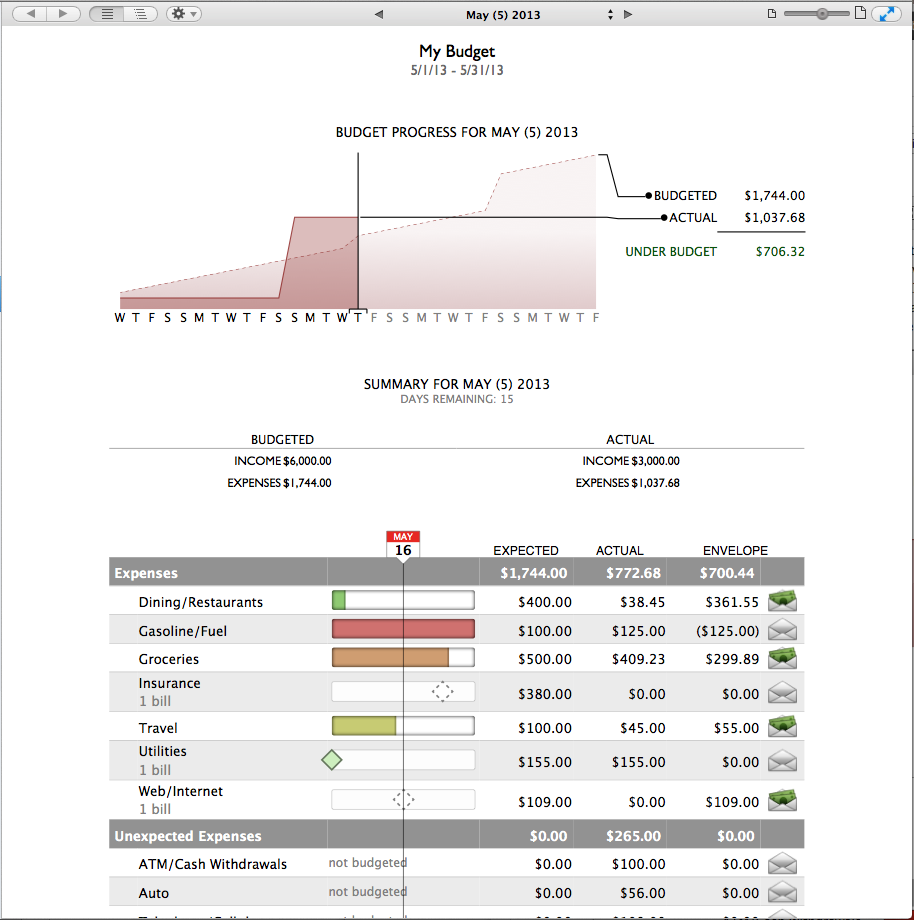 One of the first things you'll notice is at the very top is a date control — you can now easily see the budget for a week, month, quarter or year, and you can go back and forward in time to see your historical performance. The next element on the "page" is the the day-by-day progress view. We introduced this unique budget-graphing representation in iBank for iPad, and we've brought it to the Mac because it is that useful. You can see immediately if you are on budget or not, and if you are not, you can even see when you'll be back on budget. Below that is summary information about your budget and finally, the category details. Again you'll see we've borrowed from our iPad app, and astute readers might notice that when features are more functionally equivalent, they become easier to sync. You can also see that we now indicate whether or not bills are paid (solid vs. dashed diamonds) and the redness of the progress bar takes into account the current date of the budget period. For the category details section, if you do not use envelope budgeting, then last column doesn't appear. (Please take note that while the functionality for the budgets is almost done, this UI is not considered final.)

When you mouse over a row, you get an option to bring up a popover to edit or view a scheduled transaction: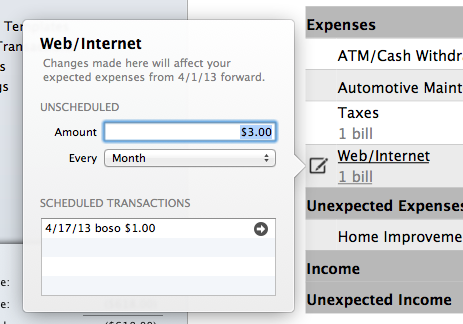 The Budget Item popover lets you quickly change a budgeted amount (and we track your changes) or jump to a specific scheduled transaction, where it can be edited as well.
The entire underlying budget model and interface have gotten a complete makeover. We've tried hard to improve its functionality without sacrificing ease-of-use. We are very excited about our new budgets and look forward to putting them in the product. I can't comment on any time frame about that yet, so thanks in advance for your patience. More news to come!
-Ian