March 24th, 2014
This  post is going to be pretty simple: I want to focus entirely on iBank for iPad. We released iBank for iPad almost two years ago. Since then it's received major updates and got a complete UI overhaul for iOS 7. iBank for iPad is the most robust and full-featured financial app for iPad and we are continuing to invest heavy resources into it. Today, I'm pleased to announce that iBank for iPad 2.1 will be released this spring. I've outlined the biggest new features in this post.
Autofill. One of the main features that has been conspicuously absent from iBank for iPad is type-ahead/autofill. For 2.1 we've implemented this in a way that allows the speed of autofill, while maintaining the easy, tap-to-select options we've had since version 1.0. As you begin typing in a payee, we autocomplete the appropriate values and we maintain a list of matching payees that you can tap if you want. I've been using this feature for a while and its really, really convenient. In the screenshot below you can see I typed in "Th" and it shows me the list of matches and autofills other fields, like amount and category.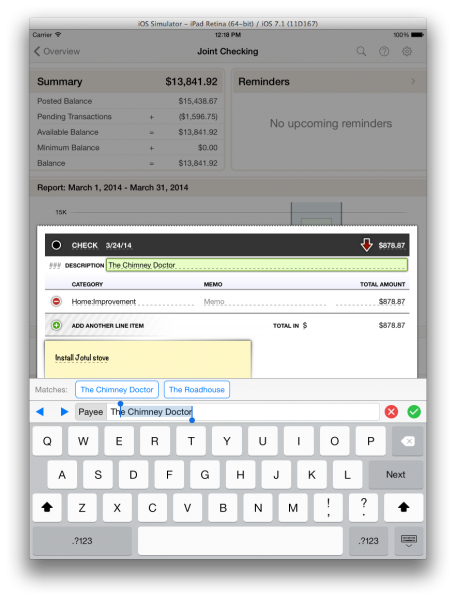 Search. Another feature that has been requested for a long time is search. We've added a new search toolbar button that is accessible from any screen. If you search from the overview screen, you'll get results for all appropriate transactions separated by account. If you search while you are on an account's page, you'll just get transactions that are found in that account. Searching begins as soon as you stop or pause typing and results are presented as they are found. Once you find the transactions you are looking for you can double-tap to edit, delete or categorize.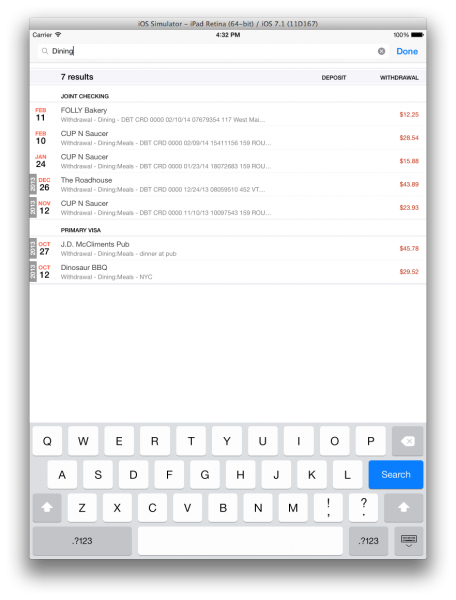 Manage. We also added a sections for managing Categories, Securities and Templates (aka Payees). You can now easily add, edit and delete categories in a single streamlined interface. The same goes for templates and securities.  The screenshot below shows the Manage Categories screen. Just double-tap any row to edit or delete.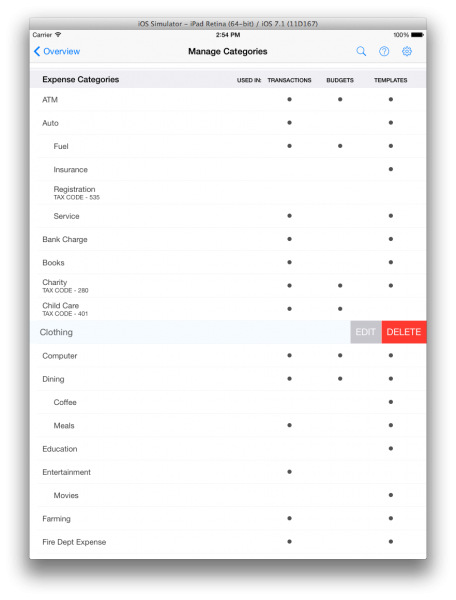 For managing securities you can also see if a security is "in use" — iBank displays its price as of the date of the last stock quote. Once again, double-tap a row to edit or delete.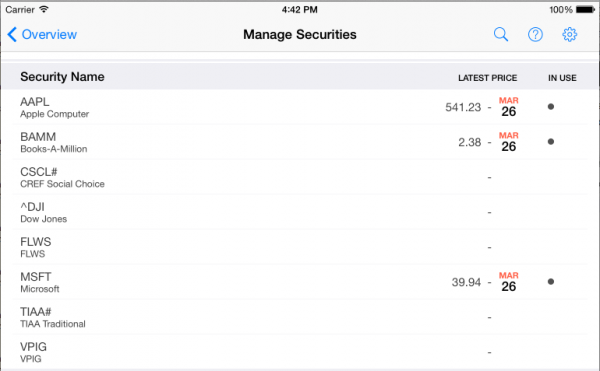 I've been using iBank for iPad 2.1 for some time now and I'm really pleased with it. The addition of autofill is a huge time saver! I can't wait to get it out to all of our existing (and new) customers in the coming weeks.
Thanks for reading.
-Ian