July 15th, 2014
One of our longest-running feature requests has been support for a "dashboard" overview of your finances: a screen dedicated entirely to getting the big picture of your money. Like almost every feature we consider adding, the concept is simple, but the implementation gets tricky pretty quickly. For this particular idea, one of the immediate questions we faced was, what exactly do people want to see in an overview screen? After poring through documented requests, it became clear that most people wanted a summary of 1) their accounts, 2) upcoming bills and 3) recent spending.
Another long-standing request has been for an easier way to see summaries of individual accounts. For example, if you have a mortgage and want to see an amortization table in iBank, you need to make a report to do this; it should be easier. Similarly, if you have an investment account and you want to see your positions, you need to use a portfolio report. Well, we've solved these issues.
Today I'm pleased to show you two of the biggest new features we've been working on in iBank 5 — our new Overview page and individual account summary pages. Although we likely won't make any large changes at this point, please note that the following screenshots are not final.
Overview Page
We've added a new "OVERVIEW" item to the source list. When you select this, you get a brand new view showing you the most important aspects of your finances: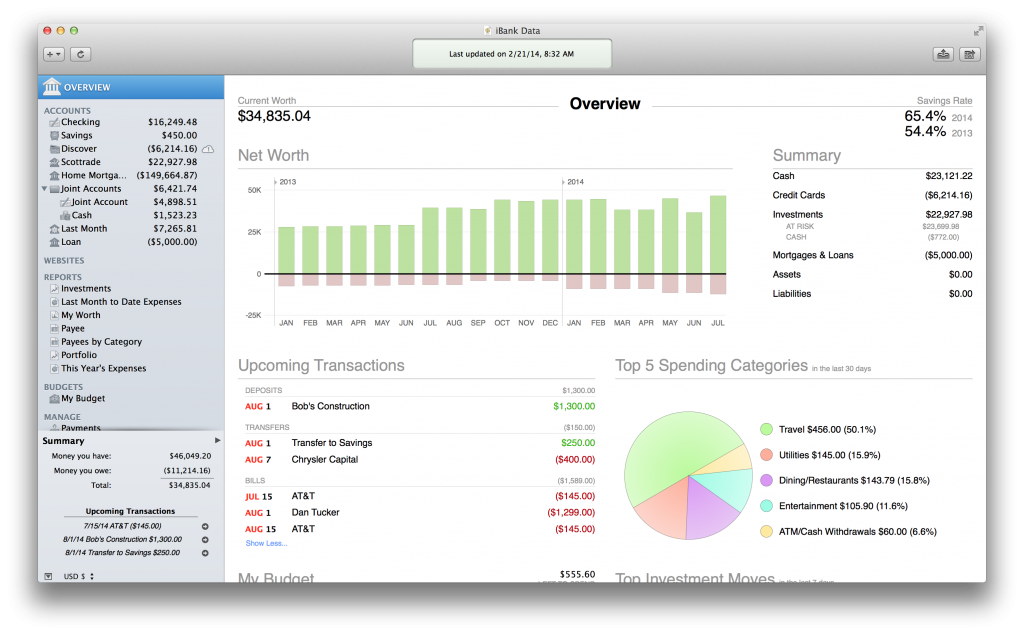 As you can see, this screen breaks out the most critical parts of your financial information, including a new parameter not previously available in iBank: your savings rate. We also show net worth though time, account balances summary, upcoming transactions, spending, budgets and investments. This screen is easy to read and very printer-friendly. When you do print it, we page break where you expect and even bring over column headers on new pages.
Individual Account Summary Pages
The Account Summary page is a new optional view for the selected account where we show the most important information. We've extended our "tab" buttons on the account scope bar:

Selecting the new "report" segmented button will get you a summary for the selected account. And in each summary, iBank customizes the data depending on what type of account you are viewing. For example, a loan account will show you a nice breakdown of the data specific to your loan. We also show a full amortization table so users no longer have to generate a report to do this.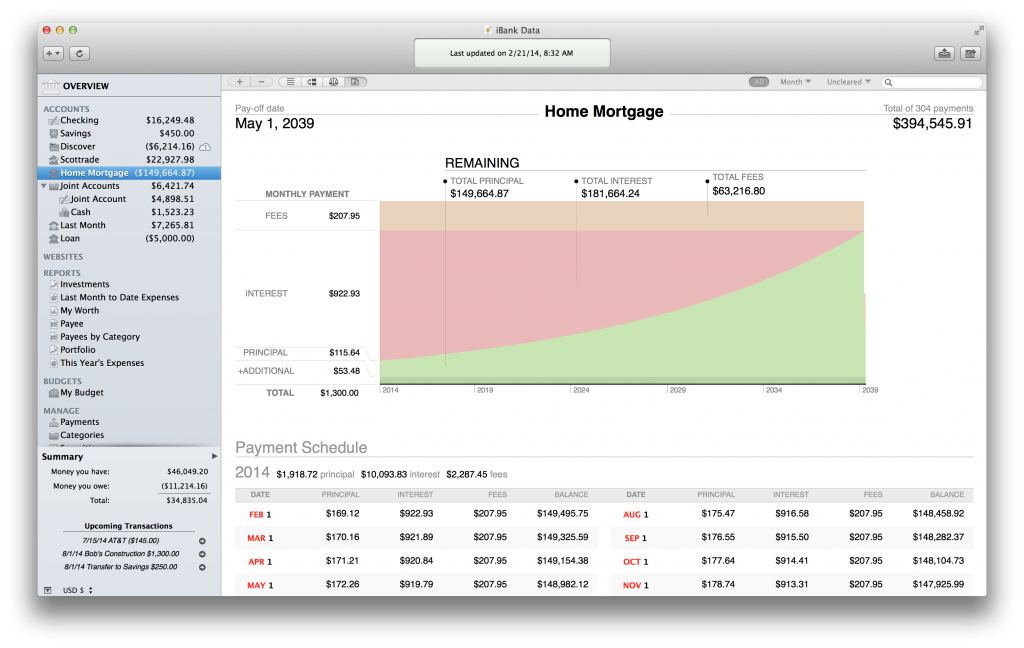 For investment accounts, you can now take a glance at your holdings without making any reports, including data on IRR, cost basis, and gains and losses.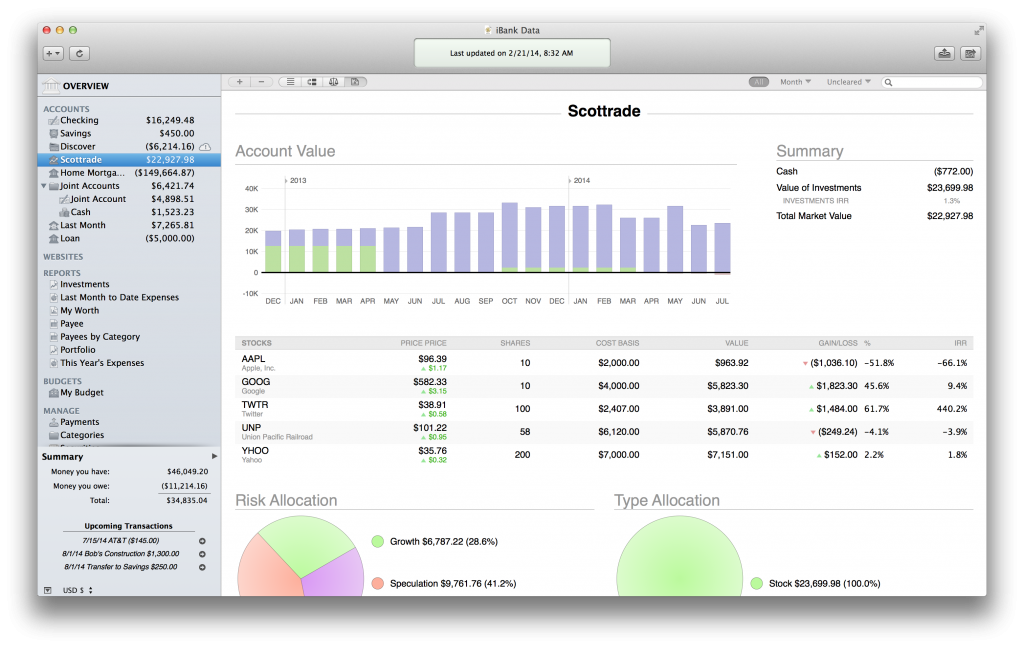 These screens have been under development for quite a while. I want to give a special shout out to the iBank Insiders group of power users who had special access to beta builds with these new features. Their feedback was invaluable and really helped us put some needed polish on these screens and better understand usability issues. So, "thank you, iBank Insiders!"
The new Overview and Account Summary screens will make their debut in iBank 5.2, alongside a number of important bug fixes and Yosemite support. This will be a free update to existing iBank 5 users as well. We think you'll really love these new features; we see them as just the first step toward giving users more efficient, time-saving tools. We'll continue to improve these as we learn more about what financial information people want to be able to see at a glance.
Thanks,
Ian