iBank 5 Public Beta is here!
No preamble needed for this post: iBank 5 Public Beta is available now. If you like to use software that is beta because you want to help find those last few bugs, then please go get it now. Use it, break it — help us improve it! But please remember, this is beta software and may result in data loss or other bad stuff.
You can run iBank 5 side-by-side with iBank 4, so you can make a "soft" commitment if you want to try out the beta without jeopardizing your iBank 4 document(s). All beta feedback should be sent to ibank5beta at iggsoftware.com.
iBank 5 has been under development for over a year. We took our existing flagship product, looked at our users' feature requests, our own strategy, and now we're delivering a powerhouse of an update. Please read below for details on all of the major (and even some minor) changes we've made. This app is, of course, Mavericks ready (but 10.8 is also supported).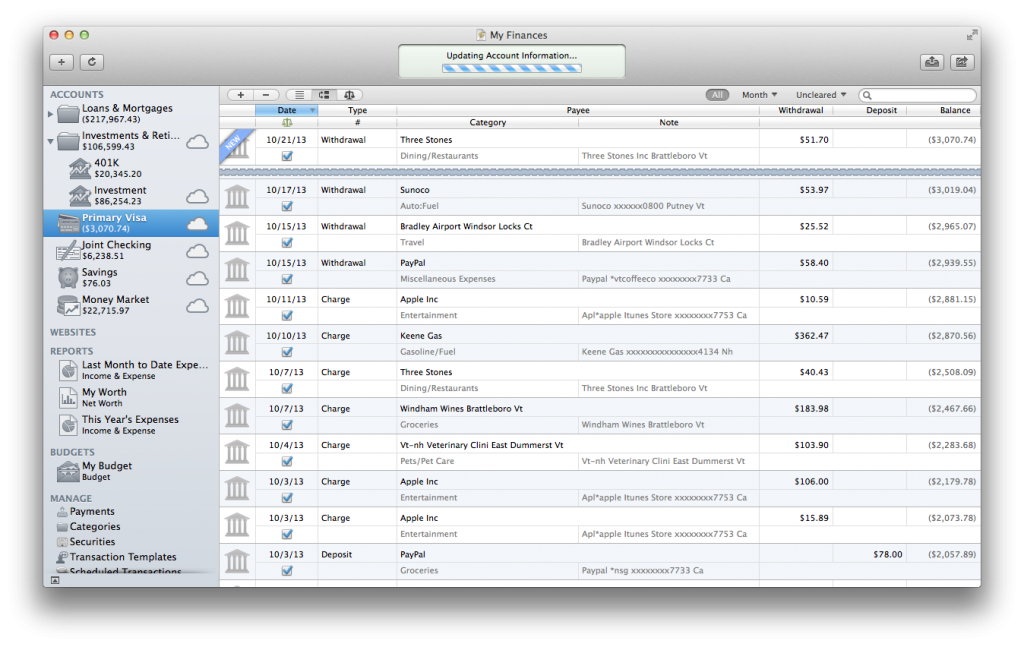 New iBank 5.
Bill Pay — This has been our number one requested feature. We've implemented it via the OFX protocol, so if your bank supports it, you get to use this outstanding feature. If your bank doesn't support OFX (the standard used for direct downloads), you might want to consider switching banks.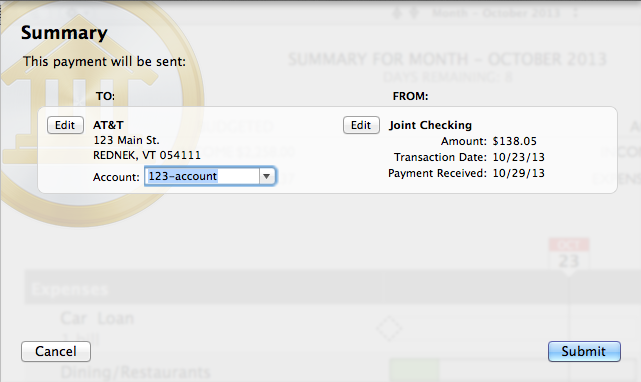 Direct Access — We've brought over the same great Direct Access service we introduced on iBank for iPad, allowing automatic account updates from over 10,000 financial institutions. Direct Access requires a free iBank ID plus a paid subscription to enjoy the ease and convenience of this exclusive service. However, if you already use Direct Access on the iPad, you do NOT need to pay again. You're welcome.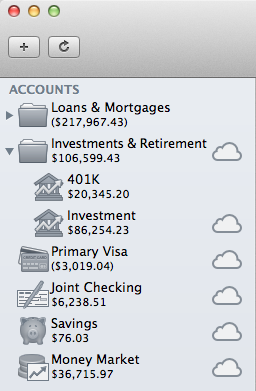 Improved Syncing — When we rolled out iBank for iPad 1.0, it synced the essentials: accounts and transactions. Now with iBank 5 and iBank for iPad 2 (a free upgrade) we sync accounts, transactions, scheduled transactions and budgets. And yes, if you opt to have Direct Access (DA) set up on the Mac, you can sync that over to the iPad and get DA updating on your device.
New Budgets — We completely rewrote budgets for iBank 5. We now automatically incorporate bills and track which ones have been paid. Once you tell iBank which bills you have, you can be reminded about them and check your budget to make sure you are spending what you expected.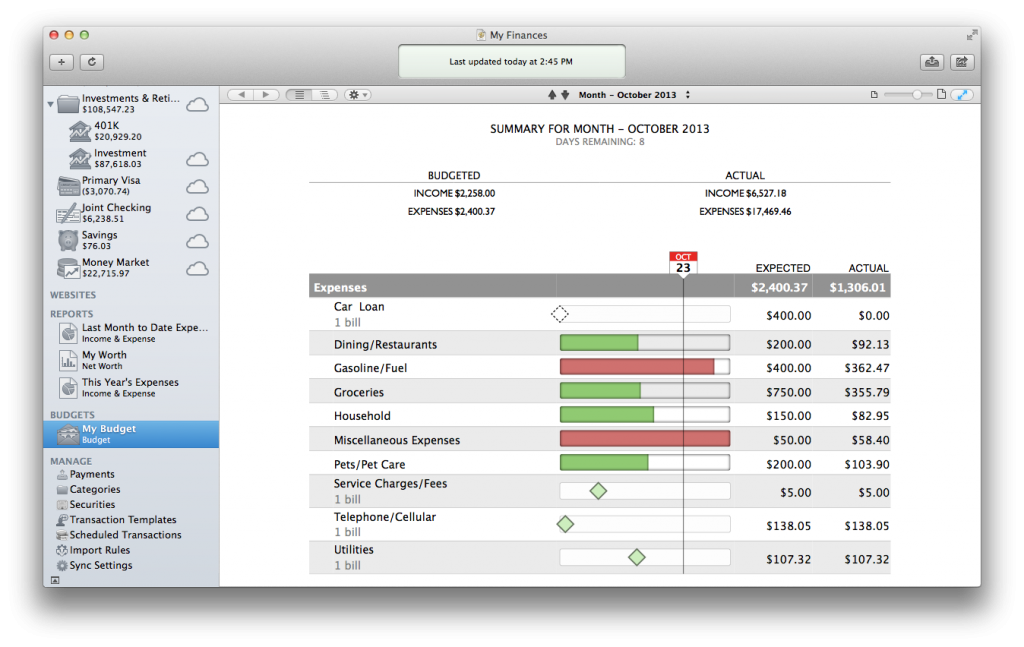 Inline Importing — In previous versions of iBank, whenever you imported transactions (whether via a direct download or a file from a bank's website) we always showed you the Import Window. Now, imported transactions just appear inline in your register, called out as "NEW" or "MATCHED". Our new advanced matching algorithm ensures that duplicates don't appear.

New Import Rules — You know that transaction you downloaded into your checking account that said something like, "ATM 7/15/2013 101 MAIN ST MERCHANT?" Now, once you correct that payee to something more meaningful (say, "Sam's Outdoor Outfitters"), the next time iBank encounters a transaction like that, it automatically applies what you entered last time — even if the next time you shop there, the date in the payee name is different. What's more, is that we do all of this automatically. This idea was introduced in iBank 4, but we've dramatically improved it for iBank 5.
New Bills (Scheduled Transactions) — We don't know of a single other program out there that can track changes made to different time periods to your bills in a budget. Why would you want to do this? Well, let's say it's March and you have been budgeting for an AT&T bill of $100. Then a few months go by and you add a phone line and the monthly bill goes up to $130. Then another month passes and you are curious as to how well you stuck to your budget throughout the year so far. Since we track these changes, when you look at your budget in the past, everything is still accurate; months prior to the increase are unaffected.
Update Everything — The new toolbar in iBank 5 has four buttons. One is "update everything" — which does just that: it syncs devices, updates accounts and stock quotes, and fetches Direct Access transactions if you have a subscription. (You can also have the document update automatically whenever it is opened.)
QuickLook — If you attach a document to a transaction (e.g. a PDF receipt), just press the space bar and you can "QuickLook" the attached document or file.
Improved Imports — We completely rebuilt our QIF and OFX importing engines. Switching from Quicken has never been so easy. iBank will import accounts, transactions, securities, categories and security prices. We also preserve all transfers.
Resolve View — We built this handy view so you can easily see the most important activity in an account. This view groups new, matched and uncleared transactions together so you can quickly see what has come in and what is still outstanding.
Filter Transactions – We've added handy buttons to filter transactions by date range or cleared status.
Bonds and Options – You can now track par value and contract size for each security. Result, much improved tracking of bonds and investments.
Categorize Investment Income – By popular demand. Enough said.
Improved Loan Support – We've implemented a much easier way to setup loans for accurate tracking and for incorporating them into your budget.
Modernized UI – The user interface got a refresh. The menus have changed as well, to be easier to use.
Better Direct Connect (OFX) – We completely rewrote the backend for a better, more robust service when downloading data from your financial institutions.
Add Bills to Reminders App – You can have iBank 5 automatically put your scheduled transactions (mostly, bills) into your Mac's Reminders app.
New document architecture – More stable, plays nicer with the file system, and File > Save As… is back.
Improved multi-core support – We made some major technical changes to take advantage of multi-core processors.
There are more changes, especially under the hood, that I won't go into here. But as I'm sure you will agree, we've put some excellent features and enhancements into this version. With my own personal data, I love just launching the app and having all of my accounts just update, automatically. It's pretty awesome and works great. One of our internal beta testers has summed up iBank 5 nicely,
"I think you all have nailed it. I've run it for two days non stop. It updates my account info automagically, and even seems to be able to download more than I can access through a browser!
Look, this is really remarkable – I haven't touched my accounts in 7 months, and my major accounts reconcile to the penny. "  — David D., iBank User
For those who like testing beta software, enjoy! For those who want to get started using iBank right way, purchases of version 4 made on the IGG website during the beta testing period will include a free license for upgrading to iBank 5 at your convenience. And if you're waiting for the official release, it will be out in just few more weeks.
-Ian
@ianggillespie