The Check's in the Mail
The other day I walked down my driveway to the mailbox. In amongst the typical flyers, credit card offers and other junk mail was the envelope I was looking for. It was addressed to me, from IGG Software. Through the plastic envelope window the type was neat and official looking. I figured this had to be it. I opened it without delay, and sure enough, there it was: a check for $18.00 from IGG. You may be wondering what is the big deal? It's just a check. This check was special, at least to me, because it was sent to me via Bill Pay.
We've been hard at work at developing an iBank interface for the OFX Bill Pay standard. This has been our number one requested feature over the last several years. And I'm really excited to be able to talk about it today.
Here is how it works. After you set up your account to use direct downloads (aka OFX) you can then send a payment to anyone in the U.S., using that account. Some banks only support downloading transactions via OFX, while others support downloads and the bill pay spec. Many of the largest banks support OFX bill pay, but unfortunately, not all banks at this time. (We'll have more information as this progresses.)
Once your account is setup you can send a check to almost anyone with an address. Need to pay your gardener? No problem. The housekeeper? Yep. Cell phone company? Sure. iBank, of course, will save your previously entered payees and associated metadata (e.g. their address and account number if applicable), so paying your next bill happens with the click of a button.
Here is a screen capture of the window you see before you  submit your payment to the bank.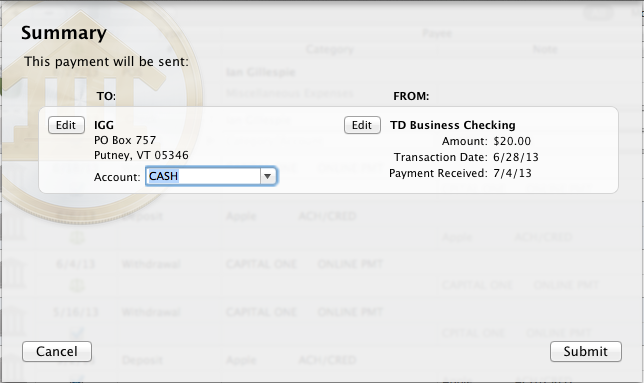 After you've submitted your payment, you can check the  status. Payments which haven't been sent out yet can be cancelled:

We are excited to be able to bring Bill Pay to future products. As I mentioned before, the number of requests for this feature has significantly outnumbered all other feature requests. It was no small undertaking to do it well and handle the anomalies of the OFX "standard," but we are quite pleased with the outcome. We are currently still in the testing stage, i.e. sending test payments to ourselves or co-workers. I can't comment about when this new feature will appear, but I'm happy to finally be able to say, "It's coming."
-Ian
@ianggillespie